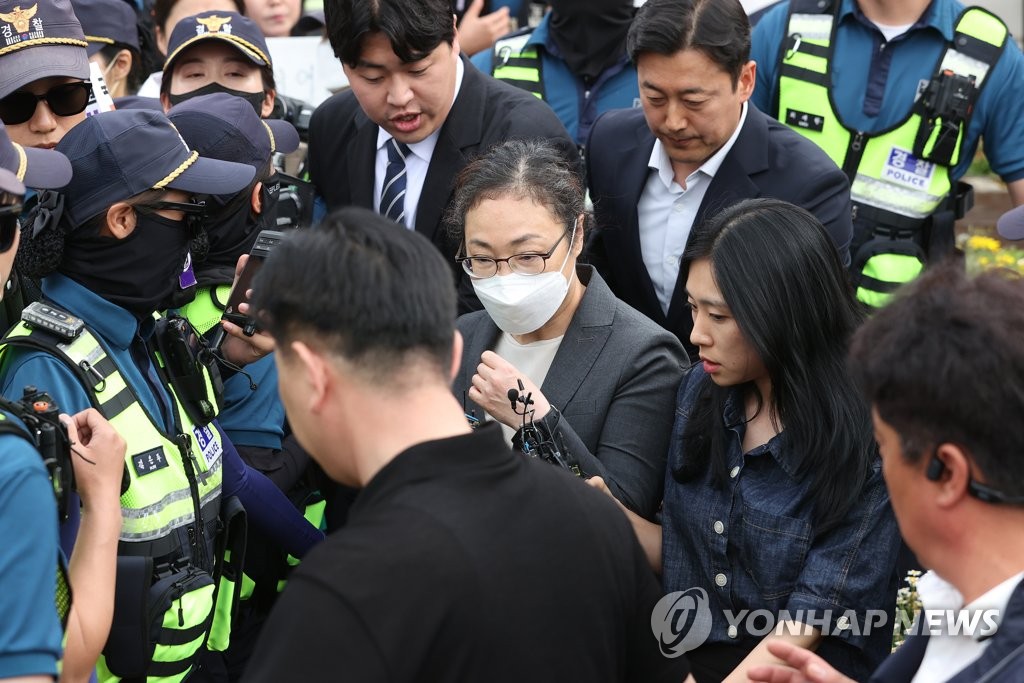 Family members of the victims who died in last year's deadly Itaewon crowd crush gathered at Yongsan District Office on Thursday morning to protest the district office chief's first day back to work.
The head of the district office, Park Hee-young, resumed work on Thursday after a court accepted her bail request a day earlier.
Some 30 people stood at the main entrance of the Yongsan District Office at around 8 a.m. to block Park's way to work.
At a press conference the day before, they had vowed to "do their best to prevent Park from resuming work" after a court granted bail to the district chief.
However, the protestors' efforts were in vain as Park was reportedly already in her office when they arrived.
After hearing about Park's early arrival at work, the family members went to Park's office, demanding to confront her.
Ultimately, they were unable to see her after eight police officers from Itaewon Police Station were dispatched to the area.
The family members later held a press conference near the district office asking for Park's resignation.
"Park holds responsibility for not coming up with preventive measures despite having been told that a large crowd is predicted to form in Itaewon on Oct. 29," Song Jin-young, a bereaved family member, was quoted as saying.
"Instead, she has taken shameless actions, such as distributing press releases about her false arrival time at the accident site, to conceal her improper response."
Park has been indicted on charges of professional negligence resulting in death. She is also accused of failing to prepare safety and accident prevention measures in Itaewon during the Halloween weekend and inappropriately responding to the incident.
She is also suspected of asking employees to falsify and distribute press releases about her arrival time at the incident site in Itaewon.
On Wednesday, the Seoul Western District Court accepted Park's bail request on multiple conditions, including the payment of a bail deposit of 50 million won ($38,000) and a requirement to stay at a designated residence.
The court's decision came five months after Park was detained.
BY JUNG-WOO CHO [cho.jungwoo1@joongang.co.kr]