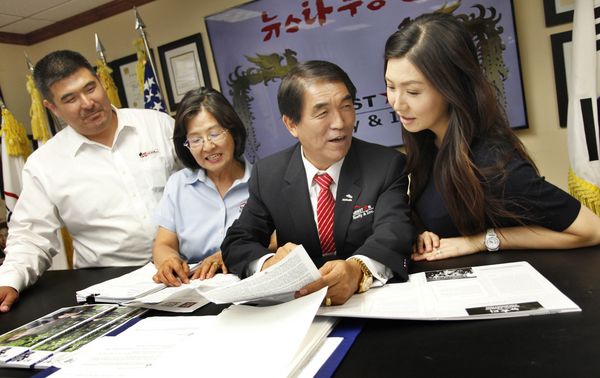 The team consists of the married couple, their children, son- and daughter-in-law. It encompasses two generations as all six of them are licensed within the same industry. The father, mother, and daughter have the real estate broker license, while the others possess the agent license.
This is the story of New Star Realty & Investment Group, founded and owned by Mun-ki Nam.
"We're a family of brokers," the 64-year-old chairman said. "My wife, Jenny, has also represented our firm for 28 years."
Founded on Sept. 25, 1988, today's New Star Realty started out as Realty World New Star. Now nearing its 30th anniversary, the firm is operating a real estate school, advertisement agency, IT business, investment group, management and escrow companies across 30 branches with around 1,000 employees. The couple's son and daughter, Alex and Amy, also joined the team a few years ago.
Amy, 32, is now the CEO of the escrow company since joining the firm four years ago. Initially, Nam was hoping his daughter to turn to politics as she studied sociology at UC Riverside. He felt the need for a female Korean-American politician after serving as the member of the Korean-American Federation of L.A., Federation of Korean Associations USA and Korean-American Chamber of Commerce. In fact, Amy once served as the assistant for a state assemblyman for two years in the past.
"Politics is no fun," she said. "It didn't suit me. So I told my father that I'd rather focus on family business, while he focuses on the political side of things."
Alex, 34, has been working for other companies, but he has now joined the family business. He does not have a job title yet, but is working as an agent at the moment.
"I'm long ways off from catching my father in terms of his leadership and experience," Alex said. "If the right opportunity comes and I have the qualities to do it, I'd like to manage our company. I'm studying hard to be able to do that."
Sergio Sung, the son-in-law of the family, is also currently gaining field experience after years of working as a manager at an apparel business.
"It's true that I was a little late on thinking about passing our family business onto our children," said Jenny Nam, who is now in charge of the real estate school. "I do regret not bringing our children on a bit earlier. We've always felt bad about not doing enough to take care of them as we've been always busy with work. I'm just thankful that they're working so hard to learn."
Nam came to Los Angeles in 1982, a year after he married his wife. He was a banker in South Korea after graduating from Konkuk University. At the time, $300 was all he had. Nam's goal at first was to attend a school in the U.S., but he first had to make ends meet. He coincidentally found a job at a home cleaning company.
It was a small company with just two other employees, but Nam's diligence lifted the business into one of the best in town. Nam was soon known as the "master of cleaning." The company was soon employing 65 people within four years.
Soon after, Nam began to dream of a bigger goal. He wanted to get into real estate. He piqued his interest in properties while cleaning homes and buildings around L.A.
Nam was different from the start. After obtaining his agent license in December 1987, Nam distinguished himself from other agents. He invested the $40,000 he saved from working as a cleaner. Nam also employed a secretary from his first day. He always had a name tag on him and began advertising himself in local newspapers with his picture attached. Nam reported to work by 7 a.m. and did not leave until late at night.
To this day, he wears a white dress shirt, red tie and a jacket. On the pocket of his shirt, the world "attitude" is imprinted.
"A clean and humble attitude always give a good first impression," Nam said. "It's inevitable that I always end up with more clients."
Nam also invests big on his scholarship business. Two weeks ago, New Star Realty held a ceremony for its 17th class of scholarship recipients. After starting out in 2001, 1,390 students have received a total of $1.3 million. Last May, Nam donated $100,000 to Konkuk University, his alma mater.
Nam advises that his all-or-nothing approach is what helped him to achieve success.
"It could be money, ability or effort," Nam said. "The ones who fail always use little bit of different things they have. You can't do that. You have to put everything on the line and give it your best shot. You have to be desperate to win."
Nam stresses the same mantra to his family. All or nothing. That is how the "broker family" enters the arena.
By Moonho Kim