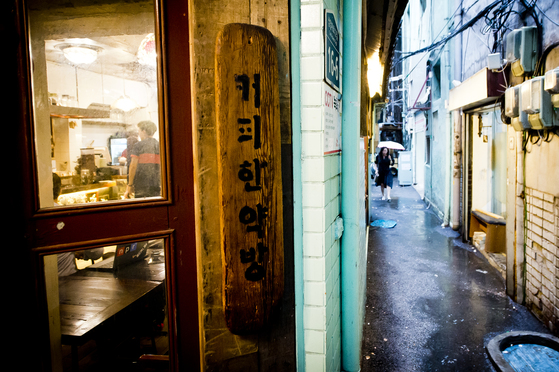 Once flourished with people, Euljiro 3rd street of Seoul is now left as a symbol of modernization, filled with time-worn buildings. Walking down the street, passing by tens of lighting stores and hardware stores, you almost feel as if you are having a time travel back in time.
In the 60s and 70s, a number of restaurants started their businesses in the neighborhood. However, Euljiro 3rd street continued to decline, failing to catch up with the rapid development of surrounding areas. But thanks to the downhill, the area is now left as one of the only neighborhoods in Seoul where affordable food is readily accessible.
Many of such restaurants are decades old. As a significant portion of restaurant owners also own the buildings, they tend to continue their businesses at the original locations.
Andongjang, which is a Chinese restaurant opened in 1948, is one of those restaurants. In the alley right across Andongjang is Ogubanjeom, selling fried dumplings since 1953.
We can't leave out Naengmyun when it comes to Euljiro. Right in front of Euljiro 3rd St subway station exit 5, you can find Euljimyunok. The cold noodle house is known for Pyongyang-style Naengmyun.
Walking up to the narrow stairs from Euljimyunok, you will be able to find Euljidabang. The owner of this old coffee shop has changed over the past 50 years, but the place keeps its name and atmosphere. Sweet 'Dabang-style' coffee and egg yolk-floating Korean tea are still the most popular drinks here.
Even the atmosphere of newly opened businesses resembles that of the old stores in Euljiro. For instance, Hotel Suseonhwa and Coffee Hanyakbang keeps the mood of old cafes in the neighborhood.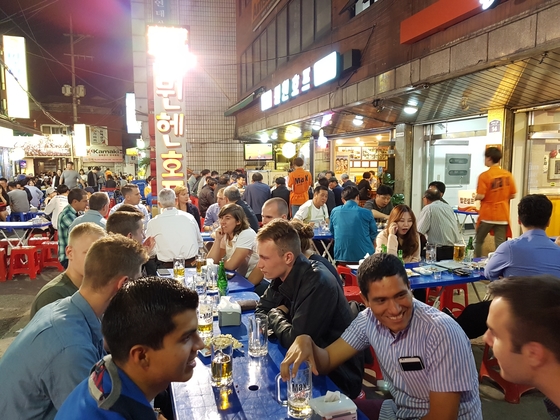 However, what's more popular than coffee in this area is actually beer. Walking down the alley across Euljidabang, there is a "Pollock Alley," where over 20 outdoor beer stands are located. Regulars visit here days and nights, claiming, "beer over coffee." Most of the pubs in the alley open at noon. A glass of beer costs 3,000 KRW and a dried Pollock is 1,000 KRW.
If you want something meaty with your beer, go to the alley near the subway station exit 6. Ranging from sirloin to beer intestines, various parts of pork and beef are available on outdoor tables.
The true appeal of Euljiro 3rdstrret is in its alleys. If you find it hard to explore alley to alley, Eulji Sightseeing is highly recommended. Make a reservation by phone (02-3396-5085) four days before and you can have a tour around the area with a cultural heritage specialist, who will introduce some of the oldest businesses there and their history to you.
Original article by Song Jeong