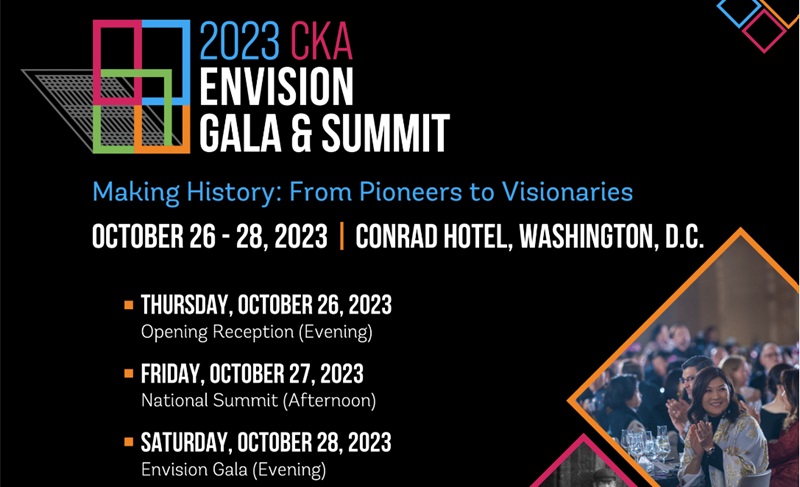 The Council of Korean Americans (CKA), a nationwide organization dedicated to amplifying the voices of Korean Americans in mainstream American society, hosted the National Korean American Leadership Conference Gala on October 28.
Held at the Conrad Hotel in Washington, DC, the event was attended by more than 400 guests, including U.S. House Representative Andy Kim, former Deputy Assistant Secretary for Governmental Affairs David Kim, Regional Administrator for GSA's Northwest/Arctic Region Sukhee Kang, and 10 Korean American Army and 10 Navy cadets.
At the gala, hosted by NBC-TV's News 4 anchor Eun Yang, four award recipients were honored: actress Ashley Park, former president of General Building Maintenance Sunny Park, private equity investor James Lee, and Colorado College President Song Richardson.
James Lee was honored with the Trail Blazer Award for building bridges between the Korean, Asian, and African American communities. Sunny Park received the Embrace Unity Award for his business success as a Korean American and his dedication to the Korean American community in Atlanta after retirement. Song Richardson, who is biracial, received the Empower Award for her work as a female educational leader and legal professional. Emmy-nominated actress Ashley Park received the Inspire Award for her boundary-breaking roles in television, film, theater, and musicals.
"This year marks the 120th anniversary of the arrival and settlement of 102 Korean pioneers in Hawaii in 1903," said CKA's Executive Director Abraham Kim in his welcoming remarks. "Today's event celebrates the present and future of our Korean American community."
"We are pioneers, and with success comes responsibility," said Board Chair Peter Huh in his welcoming remarks. "We look forward to having among our ranks a U.S. Secretary of State, a U.S. Senator, and a President."
Twenty Korean American cadets from the U.S. Military Academy and the U.S. Naval Academy were in attendance, expressing gratitude to the first-generation Koreans who immigrated to the U.S. by placing flowers on the first-generation Koreans.
CKA also presented a video titled "Loving Moms and Dads," featuring photos of first- and second-generation Korean Americans thanking their first-generation predecessors. Officials from the Korean War Veterans Memorial and the U.S. Forces Korea were also invited to mark the 70th anniversary of the U.S.-Korea alliance.
Sylvia Luke, a Korean American currently serving as the lieutenant governor of Hawaii, said, "I am grateful that CKA is raising the voices of Korean Americans."
BY JUNHAN PARK [park.junhan@koreadaily.com]