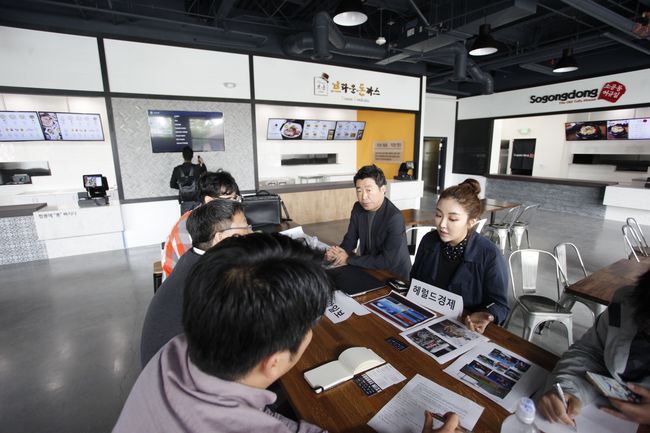 California Market, better known as Kaju Market to Korean-speakers, on Western and Fifth in Los Angeles Koreatown is set to launch its food court on the third floor on June 22.
The food court will be filled with popular Korean restaurants that have already opened in South Korea earlier. The visitors will also be treated to various entertainment events while dining.
Square Mixx, the company behind the operation of the food court, said it will focus on providing visitors with a one-stop destination for shopping and dining by offering "multicultural space" in one area, said its co-founder Hyun-seok Yoon.
Some signature dining establishments at the food court include Nipongnaepong, already a popular restaurant in Korea often visited by celebrities for its various versions of Chinese-style noodle dish jjangppong.
Premium gimbap chain Robot Gimbap will also join the lineup alongside Brown Tonkatsu, Grill Thai and 1962 So Gong Dong Tofu. Café Bora, known for its Korean sweet potato-based shaved ice and ice cream, will also open in the same area. On the first floor, South Korea's popular fish-shaped pastry, bungeo-ppang, will be sold.
Alongside the market and food court, the visitors may also rest and sit around at the "square" where they could enjoy outdoor cinema and music performances.
Yoon added that similar projects have begun construction in Orange County's Buena Park at The Source mall, but the L.A. project progressed much faster than expected, making it the first ever Square Mixx establishment in the United States.
"We have a master franchise license in California for 15 different brands, including Softree, in addition to the businesses that are set to open," said Yoon. "Of those 15, we have a nationwide franchise license for 10."
Young-ju Tak, Square Mixx's other co-founder, added: "We have the strength of reducing costs while raising the awareness of various brands as we're capable of hosting multiple businesses in one area that is more likely to attract heavier foot traffic. Our third location is likely to be in San Francisco with the fourth one being in New York."
"We also plan on targeting non-Koreans as our mission is to create a multicultural space where visitors can enjoy various experiences in one location," said Yoo, who added that he is in currently negotiations with Eggslut.
By Sungcheol Jin