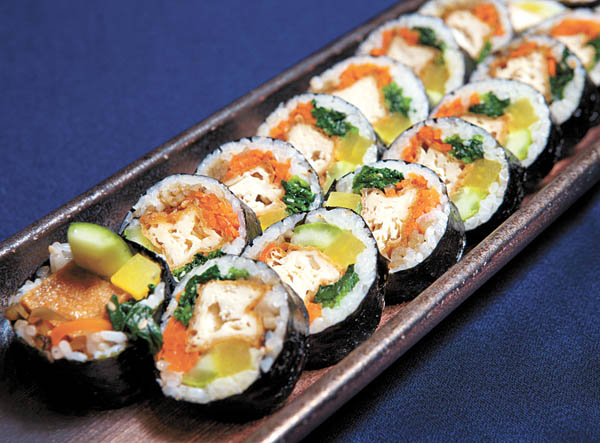 Dubu gimbap (tofu, rice and vegetables wrapped in seaweed)
Ingredients:
1.75 pounds tofu
4 tablespoons soy sauce
3 tablespoons kelp water
4 tablespoons starch syrup
1 ½ cup spinach
1 mid-size carrot
1 mid-size cucumber
10 strips danmuji, or pickled radish
10 sheets dried seaweed
Cooking oil
Sesame oil Sesame seeds
Salt
3 tablespoons cooked rice
For burdock root
1 burdock root (about 220 grams, or 8 ounces)
2 tablespoons soy sauce
½ tablespoon sugar
1 ½ tablespoon starch syrup
4 tablespoons kelp water
1 ½ tablespoon perilla oil
Equipment: bamboo mat
Serves 10
1. Slice the tofu into 10 long strips, and sprinkle salt to remove moisture. Deep-fry for 6 minutes, let it cool for a while and then fry again for 3 minutes.
2. Slice the burdock root into thin, long strips, and stir-fry on a pan coated with perilla oil for 3 minutes on high heat. Fill a small pot with kelp water, and cook in medium heat for 10 minutes. Place soy sauce, starch syrup, sugar and the fried burdock into the pot, cooking for 3 more minutes.
3. Using the pan from step 2, add the fried tofu strips, kelp water, soy sauce and starch syrup, cooking in low heat for 5 minutes.
4. Cut the cucumber into long strips, and sprinkle salt on the strips. Blanch the spinach, and mix it with salt and sesame oil. Cut the
carrot into long strips, and cook in medium heat for 3 minutes. Cut the danmuji into long strips.
5. Mix the sesame oil, sesame seeds and salt with rice.
6. Place the bamboo mat on a cutting board, and arrange the filets on top. Roll the mat up and over the fillings, starting from the
nearest side. Cut into single bite-size pieces, and serve on a plate.