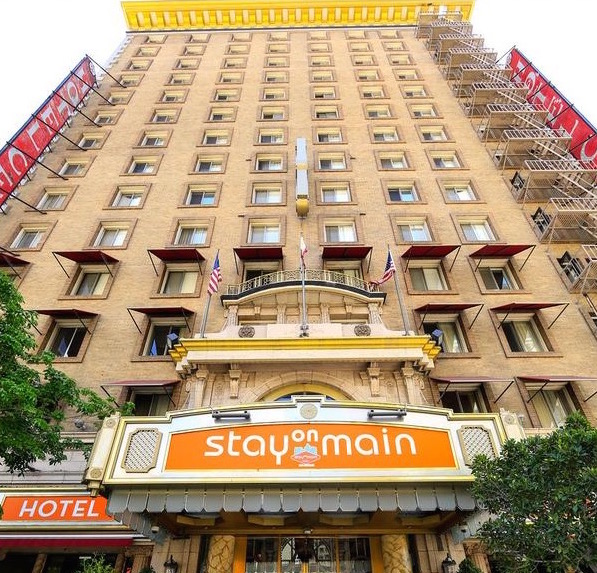 Stay on Main Hotel (formerly known as Hotel Cecil), located on Main St. between 6th and 7th in Downtown, will reborn as a boutique hotel.
According to the LA Times, a development company from New York, called Simon Baron Development, will invest 100 million dollars to redevelop the hotel. It will be another example of Downtown's development boom.
The redevelopment will officially start early next year, and it will be completed late 2018, if early, and early 2019 at the latest. The hotel will be added more facilities including a rooftop pool, fitness center, and lounge.
The 14-story and 600 guestroom scale building, built back in the 1920s, had once been notoriously known as a place of drugs and prostitution. Until recently, it has been maintaining its existence as a middle-low priced hotel for tourists, and some units have been used as residential. Simon Baron's President Matthew Baron emphasized that the hotel is "the optimal location" and he will "transform the whole building from the entrance on the first floor to the roof". The company compared the hotel with Ace Hotel, which is a nearby boutique hotel. Ace Hotel is Downtown's representative boutique hotel and its one night's room charge starts from $199.
In addition, Simon Baron is planning to expand the hotel's residential units by even larger. Currently, 299 units are for travelers and 301 are for residential. Meanwhile, there some voices that say this project may cause a rapid commercialization and an overheating phenomenon among the hotel market. Simon Baron responded to this and explained, "Downtown's hotel market still has much potential".
Original document available from http://www.koreadaily.com/news/read.asp?page=7&branch=NEWS&source=LA&category=&art_id=4319484
Translated by Audrey Joung