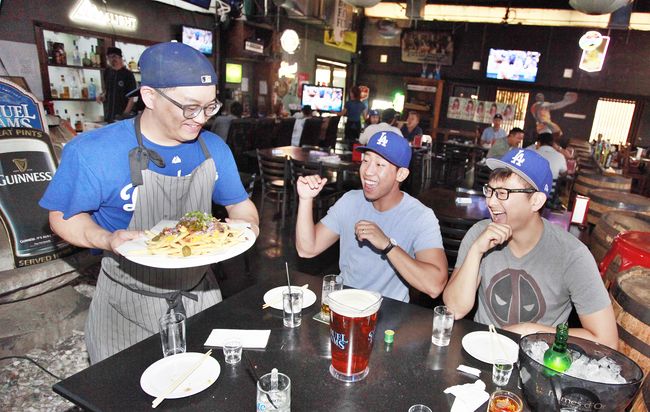 As the Los Angeles Dodgers are competing in the National League Championship Series for the first time in three years, businesses in Koreatown are seeing mixed emotions towards the team compared to years in the past.
Much of it is due to the longstanding injury to Dodgers' Korean star Hyun-Jin Ryu, who has only pitched in the major leagues just once in the last two years.
In 2013 and 2014, when Ryu was an integral part of the Dodgers' starting rotation, the restaurants and bars in L.A. Koreatown were bustling during the games as the Korean immigrants rallied behind their countryman to support the team.
This year, the Dodgers' run in the playoffs has drawn a different response in Koreatown.
The younger generation is still flocking to bars on game days to support the Dodgers, as many businesses say there is an increase of 10 to 30 percent in number of customers when the Dodgers play.
"We've got televisions in every corner of the bar," said Jin Kim, who is running Mazinga Z on 8th Street. "We have a pretty decent crowd of young people during the games."
Zan Beer, another trendy Koreatown bar popular among the younger crowd, is also seeing an increase of customers during the baseball playoffs. "Our core customer base is young and there is definitely a high level of interest in the Dodgers," said Zan Beer owner Steve Kang.
The Dodgers' playoff run has been a pleasant surprise to those businesses, as customers begin filling up the bars on weekdays around 5 p.m., as games start early during the playoffs to accommodate East Coast baseball fans.
"Five o'clock usually isn't the time of the day when we start seeing many customers," said Kang. "But on game days, a crowd of customers walk in earlier than we expected."
That being said, businesses that often target the elderly crowd is struggling to leverage the Dodgers' postseason run. An employee at Keungama Korean Restaurant told the Korea Daily that this year's baseball playoffs has not helped to boost the number of customers compared to the seasons when Ryu was playing for the Dodgers.
By Soo Yeon Oh