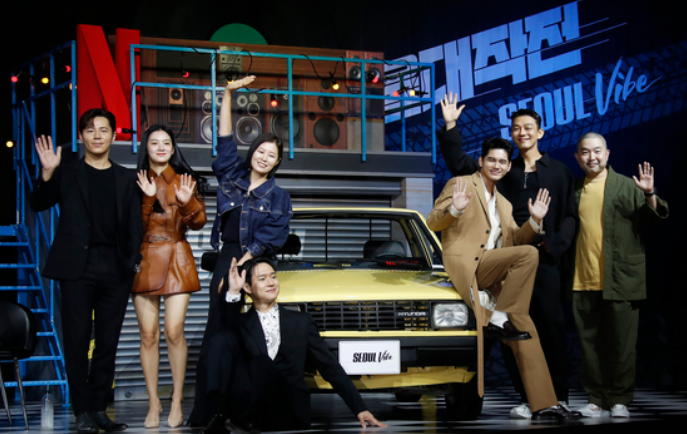 Netflix Korea's upcoming high-speed adventure film "Seoul Vibe" is gearing up to take its audiences on a thrill ride, ahead of its premiere on Friday.
 
"It's an exhilarating, fun movie," said the film's director Moon Hyeon-seong at Tuesday's press conference. "It moves full-speed until the very end."
 
"Seoul Vibe" is set in 1988, a year that holds cultural significance to Korea as it held its first Olympics that summer. According to Netflix, a team of young, ragtag drivers and mechanics set off on an undercover mission in the days leading up to the 1988 Seoul Olympics to dismantle a massive money-laundering ring in hopes of achieving the American Dream.
"The year 1988 was a year filled with both harmony and conflict for Korea," said Moon. "With this background, our film relays young dreams and passion."

Actor Yoo Ah-in, who plays the leader of the gang, pointed out the certain American influences that young Koreans were receiving at this time, saying that his character Dong-wook holds some fantasies and idolization of the West.

"With these ideals, Dong-wook chases after his dreams with a fiery, youthful energy," Yoo said.

The star-studded cast of "Seoul Vibe" is just as hip and thrilling as the plot.

Yoo's character is the leader of the gang called Sanggye-dong Supreme Team, and he is also a racer.

"I actually didn't know too much about cars before shooting the film," he said. "I spent a lot of time on the racing circuit and inside racing cars to become more familiar with my role."

Actor Ko Kyung-pyo also showed his affection for his role as a club DJ named Woo-sam in the new film, saying that he even bought a DJ set to practice at home.

"It's fun actually, even though I don't get to use it too much these days because I am busy," he said.

Other members of Dong-wook's crew are the genius mechanic and youngest member of the gang Joon-gi by singer-actor Ong Seong-wu; eldest member Bok-nam by actor Lee Kyoo-hyung; and motorbike rider Yoon-hee by actor Park Ju-hyun.

"We had a great time shooting the movie," said director Moon. "I hope that energy can be shared with the film's audience."
BY LEE JIAN [lee.jian@joongang.co.kr]