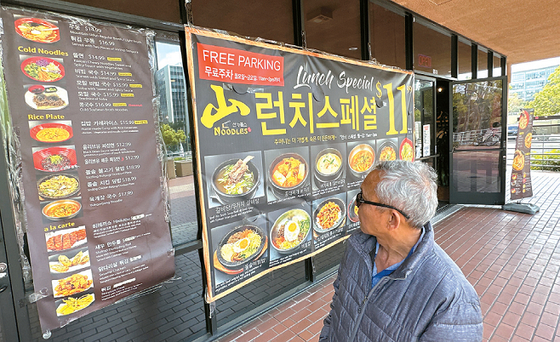 Workers and seniors sick of lunchflation (lunch + inflation) are desperately looking for cost-effective yet delicious eateries in Los Angeles Koreatown.
Junha Lee, 39, who works in the LA Koreatown neighborhood, now eats lunch at places that charge less than $13 about three to four times a week. If there's no available seating, he gets takeout and eats with his co-workers. He does so to save money on lunches that usually average to more than $20 with a tip.
"I rarely get a raise, but I spend an average of around $400 a month on lunch," Lee said, "so I've become a regular customer of cost-effective lunch spots."
As inflation continues to push food prices higher, cost-effective restaurants have become popular not only among office workers but also among Korean seniors.
This is because you can get a meal that satisfies both taste and quantity at a low price. During lunchtime, there are even people outside these restaurants, waiting in line.
Some of the best places to get lunch for under $13 in LA Koreatown include Hanmijung, Tokyo Hamburg, Mountain Noodles, Kyodong Noodles, and California Market Gimbap & Udon.
Hanmijung, known for its goat hot pot, is offering kimchi bossam and braised pork ribs for $9.99 each as a special event for two months from April to May. During the event, they are also offering 100 free bowls of goat soup every Saturday from 10 a.m. to 3 p.m. for EBT cardholders aged 65 and older.
"We have been offering meal payment services with EBT cards since a year ago," a worker at Hanmijung said. "As the economy hit rock bottom, we started offering free goat soup to EBT cardholders so that seniors could eat, and about 20 seniors came last weekend."
For office workers near Wilshire Blvd., Mountain Noodles has become a popular lunch spot for them. The 49-year-old Korean restaurant that moved to LA from Buena Park a year ago, has been offering a 14-item menu for $11.99 since March. The menu includes popular Korean dishes such as galbitang, ugerji galbitang, Dongtae Jjigae, bulgogi rice bowl, yukgaejang, kimchi and anchovy kalguksu, and stone pot bibimbap, served with four side dishes made in-house. "With so many businesses nearby, including the Equitable Building, 90% of our lunchtime customers are office workers," said a Mountain Noodles representative, "but we also get regulars from the Buena Park area."
For those of who are used to meal deliveries, Tokyo Hamburg is one of the best restaurants to get lunch on a budget. The pork cutlet and chicken cutlet is $8.99, and the pork cutlet, chicken cutlet, and shrimp tempura bento is $12.99. "More than 30% of our lunchtime sales come from delivery," said Andy Huh, CEO of Tokyo Hamburg. "Since opening in 2016, we've raised our lunch prices by $1, so we have a large loyal customer base."
Gimbap & Udon in California Market is busy seven days a week with both grocery shoppers and nearby office workers regardless of the time of day. There are more than 20 types of noodles, including ramen, banquet noodles, udon, and jjolmyeon for $8.49 to $10.49, kimchi bean sprouts rice for $9.49, perilla seaweed soup for $10.49, and pufferfish soup for $10.49.
Kyodong Noodles in
MaDang Courtyard
also offers a weekday lunch special with a discounted price for jjajangmyeon from $10.99 to $8.99. A worker from Kyodong Noodles said, "Customers tired of lunchflation are comforted by a cost-effective meal and shows gratitude. It is beneficial for the community in the long run to coexist with customers in times of soaring inflation."
BY EUNYOUNG LEE [support@koreadaily.com]