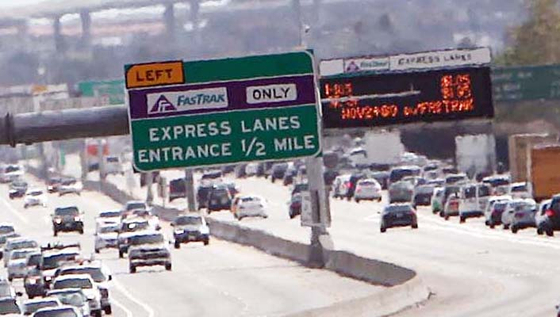 Congestion pricing on major Los Angeles County freeways is expected to be implemented later this summer.
The Los Angeles County Metropolitan Transportation Authority (LA Metro) is expected to release a study report on congestion pricing as early as this summer, according to the L.A. Times.
LA Metro has commissioned the report to propose charging congestion pricing to drivers on major freeways within its jurisdiction.
Congestion pricing is a fee charged by cities like London, Stockholm, and Singapore to drivers who contribute to traffic congestion.
LA Metro plans to review the report this summer and present the issue to the board of directors for a vote as early as next year.
LA Metro's objectives for implementing congestion pricing include improving downtown air quality and reducing congestion, generating revenue for the agency, and promoting the use of public transit.
As part of their plan, the agency intends to pilot congestion pricing on selected sections of major freeways in downtown Los Angeles.
The first segment will cover a 16-mile stretch along the 10 Freeway between downtown L.A. and Santa Monica.
The second segment will include the 110, 10, and 101 freeways, as well as arterial streets around Downtown L.A. The third segment will encompass the canyon streets and the 5 and 170 freeways connecting the San Fernando Valley to West L.A.
Currently, drivers are not charged to use freeways.
However, if LA Metro proceeds with congestion pricing, drivers will have to pay each time they use a major freeway connecting to areas like Downtown L.A.
Nevertheless, LA Metro stated that the pilot program will aim to include subsidies for low-income drivers and carpoolers, along with funding for alternative transportation options.
The Korea Daily newspaper noted that local, state, and federal governments could face significant public backlash for implementing congestion pricing on drivers."
BY HYOUNGJAE KIM [support@koreadaily.com]