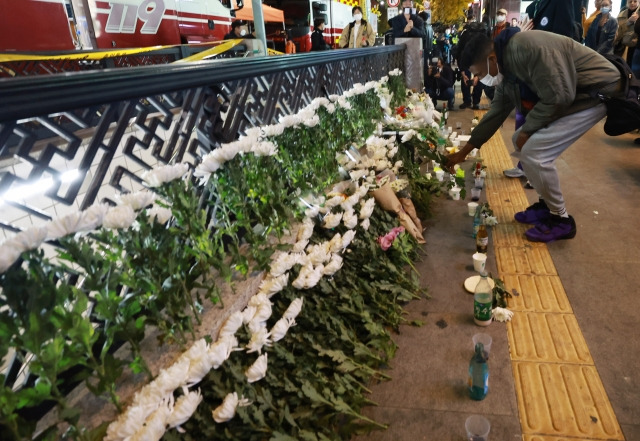 The Korean entertainment scene has come to a complete halt as the country went into a national mourning period for a week, following Saturday's crowd crush tragedy in central Seoul's Itaewon, which claimed 156 lives as of Tuesday afternoon.As surviving families grieve and over 150 people are still recovering from their injuries — dozens of them in critical condition — the government and music industry institutions such as the Korea Singers Association have urged agencies and artists to postpone or cancel entertainment-related events.
"Considering the severity of the national mourning period, we as an association will halt all events and television broadcasts and will do our best to console the victims' families," singer and president of the Korea Singers Association Lee Ja-yeon said Monday, adding that the industry's current priority should be remaining respectful toward the victims and their families.
The live performance industry will be silent until the end of this week. Most concerts and music festivals over the weekend have already been canceled, including "SMTown Wonderland 2022," "Strike Music Festival," "Busan One Asia Festival K-pop Concert" and "Peakbox 22-03," originally slated for Sunday.
Trot singers Jang Yoon-jeong and Youngtak canceled their concerts, and singer Kim Jae-joong did the same for his Nagoya concert after hearing the news while in Japan. Live performances that did go on as planned on Sunday, concerts by idol groups Ateez and Dreamcatcher, both included a moment of silence for those affected by the tragedy.
Trot singer Lee Chan-won was embroiled in a minor incident on Sunday at a fall festival in Hwasun-gun, South Jeolla. He attended the festival as a guest as planned, but declined to perform in order to pay respect to the victims of the accident from the night before. Some members of the audience started booing and hurling insults at the singer, but Lee's agency stated Monday that his canceled performance was coordinated with the festival's organizers in advance, and that the commotion was not serious.
K-pop idols that had or have their comebacks slated for this week are rescheduling release dates with their respective distribution labels and will announce them next week. Chen of Exo and Yong Jun-hyung, who were each set to release solo EPs on Monday, announced their postponements on Sunday. Yong added on Monday that his concerts set for Friday and Saturday have also been postponed.
Numerous artists have made similar announcements related to the release of their new music: K-pop boy bands Drippin and Trendz, girl groups Nature, Craxy, IChillin' and Irris, and singer Jeong Eun-ji, Punch and Navi. Trot singer Jang Min-ho's agency stated Tuesday that the release of his full-length album, set for the same day, has been postponed, and so were his concerts slated for Friday to Sunday.
On Monday, girl group Twice canceled its meet-and-greet session set for Nov. 5, which was supposed to be a Halloween-themed celebration of the seventh anniversary of its debut. While Halloween has been a popular season for celebration in the K-pop scene for years, with various themed events and photo-ops, the industry as a whole has refrained from making any references to the holiday.
Nmixx, which had uploaded a video with members dressed up in Halloween costumes on the girl group's official YouTube channel, later deleted it following Saturday's accident. KBS's entertainment show "1 Night & 2 Days" was supposed to air a Halloween-themed episode, but will re-edit the footage in order to delete parts that include elements regarding Halloween and air it sometime in the future.
Korean television channels will not air the episodes of their entertainment shows this week. Mnet's entertainment shows "Street Man Fighter," "Show Me The Money" and "Artistock Game" will all take a break this week. SBS will skip this week's episodes of "Sing for Gold" and "Running Man" and tvN its popular show "You Quiz on the Block." New entertainment shows that were supposed to launch last weekend or this week will air their first episodes at a later date.
Most upcoming K-dramas have postponed their first episodes, and currently-airing ones will skip this week's episodes. Meanwhile, KBS's new series "Curtain Call," starring actors Kang Ha-neul and Ha Ji-won, aired its first episode on Monday as planned but canceled a press conference planned for the same day.
K-drama stars also put a halt on their personal schedules: Jung Il-woo postponed his fan meet-and-greet in Japan, although he had already arrived in the country, while actor Kim Seon-ho postponed the release of tickets for his upcoming meet-and-greet session in December.
Popular K-pop programs such as SBS's "Inkigayo," MBC's "Music Core," KBS's "Music Bank," Mnet's "M Countdown" will all take a hiatus for at least a week. Broadcasting schedules are likely to remain tentative until the end of the national mourning period or potentially longer.
The national mourning period has also impacted the Korean live theater and cinema scenes. Jeongdong Theater in central Seoul's Jung District canceled Tuesday's press conference for its upcoming play "Macbeth Requiem." Lead actors of new films "Confession" (2022) and "Remember" (2022) canceled their plans to meet audiences in-person at movie theaters.
Monday's press conference for the comedy film "Men of Plastic" starring Ma Dong-seok, also known as Don Lee, was canceled. As of now, the movie is still slated to hit local theaters within the month.
BY HALEY YANG [yang.hyunjoo@joongang.co.kr]