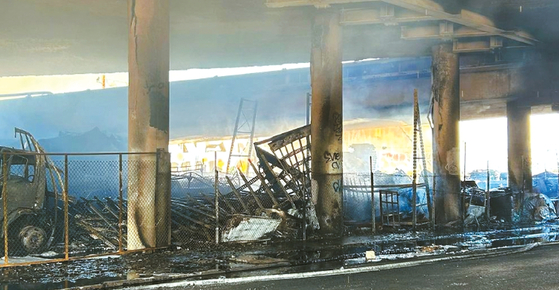 A section of the 10 Freeway that connects Downtown Los Angeles to Koreatown has been closed indefinitely following an intense fire. As a result, significant traffic congestion is expected on the 10 Freeway during daily commutes.
According to Caltrans, a massive fire broke out at 0:22 a.m. on November 11 on the eastbound 10 Freeway between Alameda Street and Santa Fe Avenue in downtown Los Angeles, melting the freeway's guardrails and concrete pillars.
The fire originated in a 40,000-square-foot pallet yard under the Freeway bridge at Alameda and East 14th streets.
The L.A. County Fire Department responded with a total of 26 fire trucks and helicopters, but the fire spread to another nearby pallet yard and was extinguished by 10 a.m. that morning.
The fire caused significant damage to the freeway deck and columns on the bridge, prompting the City of Los Angeles and the Department of Transportation to immediately close the mile-long stretch in both directions to vehicular traffic.
California Governor Gavin Newsom declared a local state of emergency in L.A. County on the afternoon of November 11, ordering a massive cleanup and freeway restoration effort in response to the chemicals released by the fire.
"We don't know if there are hazardous materials in there, so once the fire gets put out, our hazardous teams will have to go in and ensure that it is safe for the structural engineers to enter and check," said Lauren Wonder with Caltrans on November 12.
"The specific timing of when the section will be reopened is unknown at this time," she added, recommending that drivers avoid using Freeway 10 and detour to alternate roads or freeways if possible to avoid congestion during rush hour.
According to Caltrans, an average of 300,000 vehicles per day pass through the downtown area on Freeway 10.
BY NICOLE CHANG, JUNHAN PARK    [chang.nicole@koreadaily.com]