Good morning! It's Monday, October 16. Welcome to Katchup Briefing, the Korea Daily's weekly English newsletter, where I'll keep you informed with the latest news updates and perspectives from the Korean American community. If you want to explore more articles and columns from previous weeks, please visit koreadailyus.com.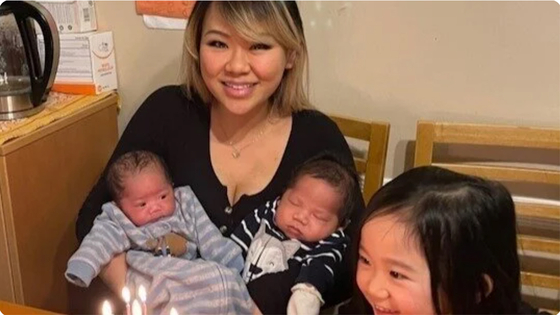 The Korean-American communities in New York and New Jersey are passionately advocating for the release of Grace Yoo Chan, a 36-year-old Korean-American mother who has been imprisoned for over 17 months on charges related to the tragic death of her 3-month-old baby.
Grace's case has garnered significant attention and support, with more than 1,500 signatures collected during recent petition drives at two churches in the area. Additionally, an online petition at www.Justiceforgrace.org has garnered nearly 6,900 signatures, demonstrating the growing backing for the Justice for Grace campaign. Leaders from over 20 major organizations in the New York and New Jersey Korean-American communities have thrown their support behind the campaign.
Grace, who gave birth to twin sons early last year in River Edge, New Jersey, faced an unthinkable tragedy when one of her infants experienced breathing difficulties at home in March 2022 and was rushed to the hospital, but sadly passed away three days later. Police arrested Grace in early May 2022, about a month later, and charged her with first-degree murder, alleging that she had abused her son, leading to his death.
Prosecutors informed the court that the infant had numerous injuries, some fresh and some partially healed, which they argued were indicative of child abuse. Bergen County Prosecutor Mark Musella asserted that Grace was responsible for the injuries that ultimately caused the infant's death. The court denied bail, and Grace was promptly incarcerated. Judge Mitchell Steinhard expressed concern for the safety of Grace's two other children.
One year and five months later, no trial has taken place, leaving the truth of the case in a state of uncertainty. Grace's husband, William Chan, maintains Grace's innocence and contends that the prosecution's case heavily relies on circumstantial evidence, lacking substantial proof of her involvement in the tragic passing of their son, Elliot.
The family argues that the child suffered from various health issues, including severe vitamin D deficiency, rickets, evidence of a seizure, blood clots, intrauterine growth restriction, and multiple hernias, necessitating surgery. They emphasize that the baby was born with low birth weight and remained in a fragile physical condition. Despite their best efforts, the infant stopped breathing, leaving no direct evidence of the cause of death.
Grace's parents, Jae-woo Yoo and Young-sun Yoo, express their anguish and frustration over their daughter's prolonged imprisonment, describing it as a mental ordeal. They stressed that their daughter had come to the United States as a child, grew up in a peaceful and happy family, studied education at the State University of New York, and lived a faithful life as an educator and a loving mother to her children.
"Grace worked diligently as a civil servant for the New York City Department of Buildings, married a family-oriented Chinese husband, and cherished her children so much that she continued to prepare and deliver breast milk for her surviving twin son even after being imprisoned," said Mrs. Yoo, appealing for the prompt return of the falsely accused Korean American mother to her family.
Initially, Grace's family had hoped for a swift resolution to unveil the truth and secure her release. However, as time passed, the Korean-American community rallied around her cause. A committee, led by her cousin Daehyun Yoo and Sam Chung, was formed to advocate for her release.
By Mooyoung Lee   lee.mooyoung@koreadaily.com