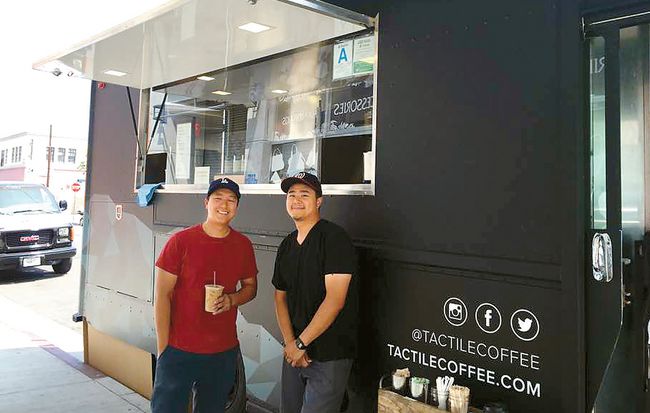 In Downtown LA's Fashion District, there is a unique specialty coffee shop. It is 'Tactile', a coffee truck that is run by Korean American brothers, Eric and Mike Yi.
One of the business strategies of this coffee truck that opened on March 1, is the 'visiting barista' service. The barista of Tactile is Mike, the younger brother. From his learning and working experience in the coffee industry for four years, he only uses 'Counter Culture Coffee', which is famous among specialty coffee manias. His brother Eric is in charge of operation and marketing of their coffee truck.
Eric Yi said, "Tactile's target group is Fashion District's Koreans. As there have been more and more famous coffee shops opening in Downtown, including Stumptown Coffee and Blue Bottle, many Koreans are now looking for high-quality coffee. With the hope of providing people a cup of relax during their busy working days, we supply great quality coffee in Fashion District on weekdays, and we participate in a variety of events on weekends".
Tactile opens everyday from 8AM near at 10th St and Towne Ave.
Original document available from http://www.koreadaily.com/news/read.asp?page=6&branch=NEWS&source=LA&category=&art_id=4322897
Translated by Audrey Joung