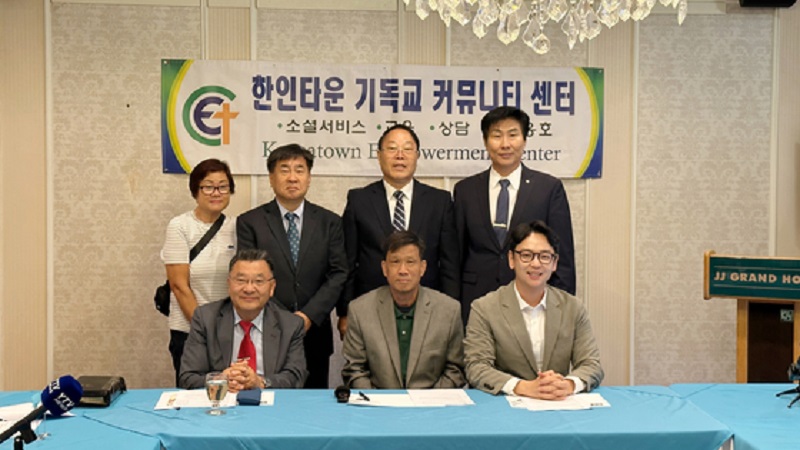 A group of Korean American churches founded an organization to provide social welfare services to Korean seniors in LA's Koreatown. The Koreatown Multipurpose Senior Center, which has provided social services for Korean seniors in the area, was rebranded as the Koreatown Empowerment Center.
Rev. Paul Park of the Crosslife Discipleship Church, who founded and oversaw the Koreatown Multipurpose Senior Center, announced the launch of the Koreatown Empowerment Center at the JJ Grand Hotel on September 11.
He outlined plans to collaborate with Korean American churches and non-profit organizations to promote the rights and interests of the Korean American community, aiming to improve the lives and welfare of ethnic Koreans.
"After the pandemic, I was saddened to witness various problems within the Korean American community, ranging from suicide and housing issues to homelessness, substance abuse, senior challenges, public safety, and gender identity issues," said Rev. Park. "The potential and capabilities of the Korean American church are vast, yet there aren't many opportunities to harness them for community benefit. We aim to assist our members who confront a variety of daily challenges and contribute to finding solutions."
He particularly emphasized his ambition to support Korean American churches in executing various community services, including social services, job training, voter registration, and training for professional social workers. The goal is to transform Korean American churches into community service hubs.
"We will initiate with immigration applications and services for Social Security and Medicare," said Rev. Park. "Currently, three to four churches in LA have committed to collaborating with the Koreatown Empowerment Center. We are also reaching out to Korean churches in the Valley to encourage their participation," he added, inviting other interested Korean American churches to join.
The press conference attendees included Steve Kang, Director of External Affairs at the Koreatown Youth and Community Center (KYCC), Rev. Young Bong Choe, President of the Council of Korean Churches in Southern California, Jay Park, President of the Pico Union Neighborhood Council, and Alex Chang, a standing member of the Peaceful Unification Advisory Council Los Angeles.
Steve Kang of KYCC expressed, "It's heartening to witness a new organization dedicated to serving the Korean American community and safeguarding its rights and interests. We're committed to collaborating and standing in solidarity to propel the Korean American community's growth."
Rev. Choe emphasized the newfound opportunity for churches to collectively serve the community, stating, "With this foundation in place, we will rally behind Korean American churches in their endeavors."
Established by Rev. Park in 1995, the Koreatown Multipurpose Senior Center operated the largest food bank in the Western region for seven years. It pioneered informing the Korean American community about Covered California upon its inception and registered the third-highest number of residents in the state. Moreover, it was the first Korean American nonprofit to earn recognition by the federal Department of Justice as an immigration law agency.
BY NICOLE CHANG   [chang.nicole@koreadaily.com]