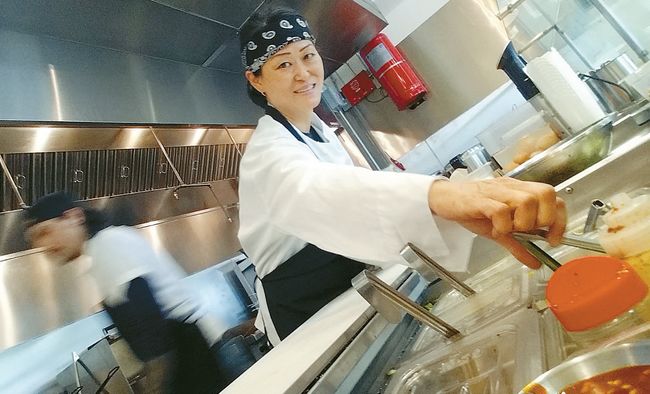 "Restaurant operation is in the manager's hands. I'm the owner, but I stay in the kitchen to secure 'the food identity,'" said Judy Han, chef-owner of Eko Eats.
Eko Eats, located in Downtown Los Angeles, is a fast casual restaurant serving chef-designed, Korean inspired meals. Before opening Eko Eats six months ago, Chef Han worked at Mendocino Farms for eight years.
"Understanding more about food and cooking, I started to wonder what my own 'food identity' is" said Han. "And I believe that is fast-serving, healthy Korean food."
On the menu of Eko Eats are some of the familiar Korean dishes – bibimbap, japchae, jook (Korean rice porridge) and more. However, dishes are served at the speed not so much longer than how much it takes for burgers to be served. To maintain freshness of each dish at such a fast speed, there are nine staffs in this small restaurant.
Judy Han is also committed to using the highest quality, organic, and non-GMO ingredients as much as possible. As a part of such commitment, Eko Eats is partnering with a small local poultry farmer to have fresh, humanely raised chicken and eggs delivered.
As if proving that all her efforts are worthwhile, it is hard to find empty seats in the restaurant, even though they operate only on weekdays. Still, Han is determined not to add a franchise.
"As long as the restaurant is open, my job is to stay and operate in the kitchen," said Han. "Food is properly cooked only when the chef himself understands and realizes it. Operation and investment is only second thing to consider."
Original article written by In-sung Choi
Translated by Heewon Kim