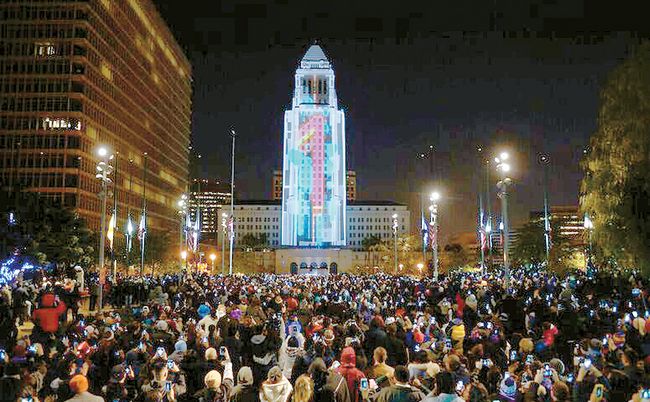 One of the Los Angeles's largest event, the New Year's Eve Celebration will happen from 8 pm on December 31st at Los Angeles Music Center, City Hall and Grand Park.
For the fourth year, Grand Park + The Music Center's N.Y.E.L.A. (New Year's Eve Los Angeles) is organized by the LA County. This year's event will be as large as the New Year's Eve events in New York and Las Vegas.
In effort to encourage people to gather together and enjoy live events, the event will be open for free for Southern California residents. The event will happen at the three stages in the Music Center, Grand Park and City Hall. Thanks to diversity and colorful cultures in LA, a variety of artists from many communities will perform music and dance concerts.
The artists from many communities will show dynamic stages from Latin funk to hip-hop, disco, and samba adding an excitement to the event.
Famous musicians and DJs will celebrate the event too. Afro-Latin funk band Jungle Fire, Hip-hop artist Lyric Jones, Latin soul singer Quetzal Guerrero and other artists will perform at the event. Star DJs such as DJ Expo, Victoria Van Damn, Gazoo Olmeda and Jose Marquez will bring up cool music on the three different stages from 8 pm on December 31st to 1 am the next day.
Rachel Moore, CEO of The Music Center, said "The event has started only 4 years ago, but we already have a lot of people coming to our event comparing to the Madison Square Garden's New Year's Event in New York," said Rachel Moore, CEO of The Music Center. "And the event is a great opportunity to show LA's cultural power. Experts from the county and governmental organizations support and plan the event, so I am looking forward to seeing high interests and engagements from the community."
On New Year's Eve, all metro rail including Orange and Silver lines will run 24 hours, for free from 9 pm to 2 am.
The cultural events will perform from 8 pm to 1 am on three stages and the countdown will start at City Hall with spectacular projections.
The host expects to see about 50,000 people coming to the event, so attendees are advised to arrive early in order to enjoy the event safely and conveniently.
For more information, please visit the website N.Y.E.L.A. | Grand Park LA
Original Article by The Korea Daily Los Angeles
Translated by Narae Lee