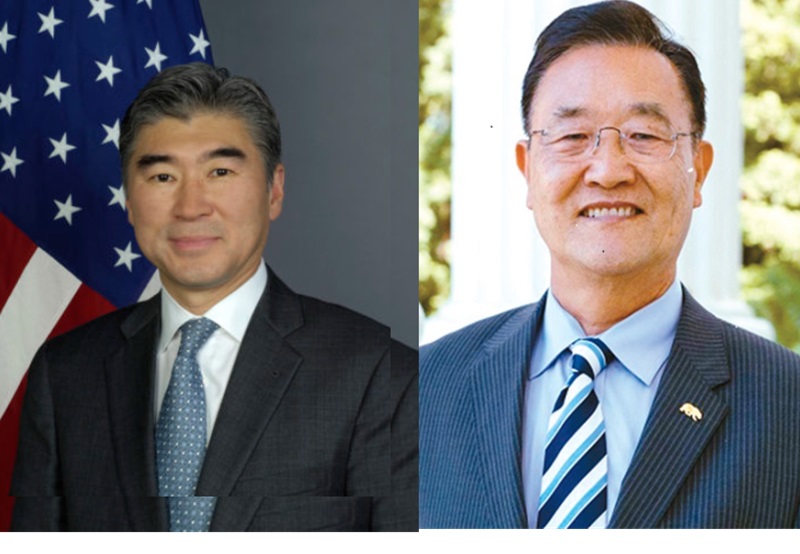 U.S. Ambassador to Indonesia Sung Kim has endorsed former State Assemblyman Steven S. Choi (R), who is running for California State Senate in District 37.
Kim, who currently serves as the State Department's Special Representative for North Korea, breaks with convention as a career diplomat by publicly endorsing a candidate from a political party.
"Super proud of our own brother of Korean Heritage who has been promoting our great Country at the Global level Dr. Steven Choi. I urge everyone to join and support the Campaign of my Dear brother through the Link below," Kim wrote in a social media post on November 4.
In response, Choi said, "We recently became Facebook friends and have been interacting with each other, and I am thankful for his public expression of support," adding, "I will do my best to represent the Korean American community in the California State Congress effectively."
Kim has previously served as the 22nd U.S. Ambassador to South Korea and is recognized as a leading U.S. expert on the Korean Peninsula, having also served as the Acting Assistant Secretary of State for East Asian and Pacific Affairs.
Choi, on the other hand, has served in the California State Assembly and lost a bid for a fourth term in the 73rd District last year. He is set to run in the 37th Senate District, which includes his former Assembly district, in next March's primary.
BY BRIAN CHOI [ichoi@koreadaily.com]