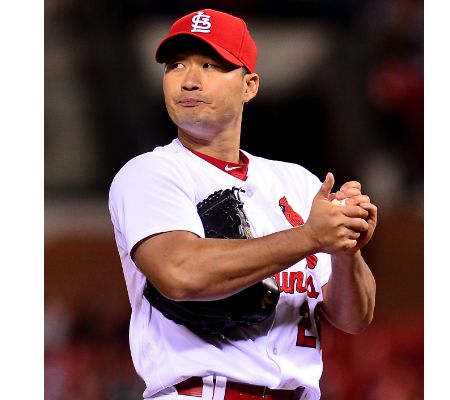 St. Louis Cardinals closer Oh Seung-hwan gave up a run in a road game for the first time since his debut in the major leagues four months ago, but his near perfect record leading up to Tuesday's blown save is still a noteworthy feat for the 34-year-old South Korean rookie.
Oh gave up a walk-off, three-run homer to Cincinnati Reds outfielder Scott Schebler at the Great American Ball Park, suffering his second blown save of the season as the Cardinals lost 7-5.
While Oh will be disappointed with the loss, his impeccable pitching performance away from St. Louis until the ninth inning of Tuesday night's game showed just why the Korean star has become the Cardinals fulltime closer despite starting the season as a mid-game reliever.
Prior to Tuesday game's ninth inning against the Reds, Oh was pitching 25 scoreless innings in 24 road games as he collected two wins and three saves on just 0.63 hits and walks allowed per inning, while also holding opposing batters to a .115 batting average.
Until Schebler's home run, Oh remained as the only active bullpen pitcher in the major leagues this season to have pitched over 20 total innings in road games without giving up a single run.
Oh's recently broken streak of scoreless innings away from home seems even more impressive considering New York Mets closer Jeurys Familia, who leads the major leagues with 37 saves this season, has already given up six runs in just 20 innings in road games.
Also, to say that Oh's dominance only applies to his road performances would be hugely unfair. As of Aug. 3, Oh's earned run average is still at an impressive 2.14 despite his struggle on Tuesday. His 70 total strikeouts this season is better than any other current closers in the major leagues with more than 10 saves in 2016.
By Hwa Shik Bong