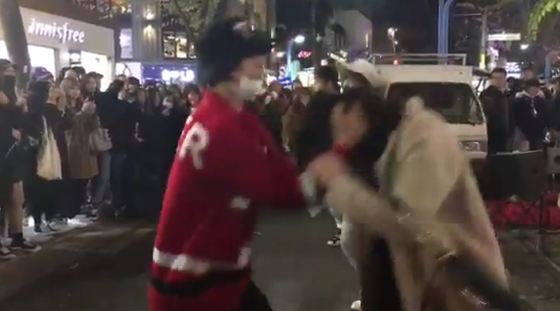 A street dancer who performs on Hongdae streets is criticized for grabbing audiences' hair as a part of his "performance."
On November 12, a Twitter user shared a video, writing, "A dance busker in Hongdae dragged a woman by grabbing her hair… I was shocked while recording the video."
홍대 댄스 버스킹하는데 갑자기 여성분 머리잡고 나옴,,,,영상찍다 충격받았다…. pic.twitter.com/hzYpm8kcak

— 일곱계절 (@_7_seasons) November 12, 2017
In the 6-second video, the performer forces a woman to shake her head by grabbing her hair and shake dynamically. The woman, who seems to be dragged around the place, is holding the performer's wrists in the video.
The performer turned out to be Lim Byung-doo, who is currently leading a street dance group Haramkkun. Lim explained that he was "only shaking her head rhythmically, not grabbing her hair," before he later posted an official statement on his Instagram account.
"I thought I was dancing with her by covering her head so that she won't get hurt, but I'm sincerely sorry if the woman felt uncomfortable or took it as an attack," Lim wrote in the apology, which is now deleted.
By Heewon Kim