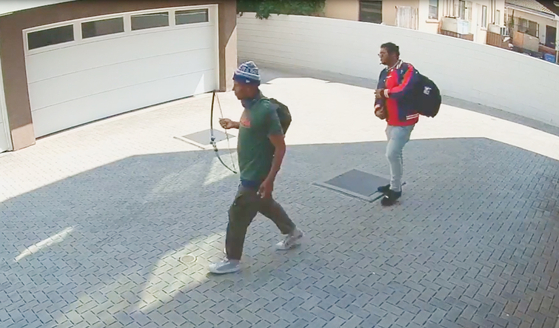 The recent spate of burglaries in LA Koreatown has made residents nervous. Recently, burglars armed with a bow and arrows in a residential neighborhood was seen in the area.
According to a report the Korea Daily received, a resident of a four-unit multifamily building near Fedora Street and West 12th Street noticed that an Amazon delivery box had been stolen at around 2:15 p.m. on September 23.
The property owner turned to the CCTV to identify the thieves and was surprised to see a large bow and arrows in their hands.
Armed with a bow and arrows, the two suspects boldly entered the gate with their faces uncovered, grabbed the Amazon package on the front porch, and fled the scene.
The stolen box contained kitchen appliances, the resident said.
"I was stunned when I watched the video, and I'm not sure what would have happened if someone was out at that time," said Eric Kim, the building's owner. "Recently, there have been a number of thefts of tenants' belongings, including Amazon packages and bicycles. We've been living here for six or seven years, and this is the first time we've had a theft this year."
"Recently, I've heard many stories from Korean Americans who have been victimized by thieves who follow Amazon trucks in Koreatown and steal packages," Kim said. "They all shake their heads, saying that it's useless to call the police. I think we need to take our own precautions and be careful," he added.
BY SUAH JANG    [jang.suah@koreadaily.com]