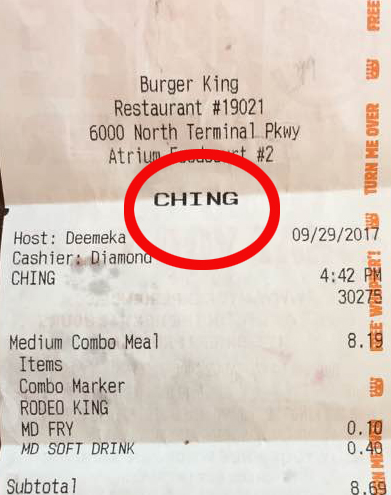 A Korean customer was racially insulted at the Burger King restaurant in Hartsfield-Jackson Atlanta International Airport. The airport is known to be the most crowded airport in the world.
The customer, named Kim Ki-won, received the insult on the 29th of last month while he was only trying to alleviate hunger at the airport's food court. After ordering a hamburger combo at Burger King, Kim found out the word 'CHING' was written on the receipt instead of his name that he had told the employee. 'Ching' is a racially discriminating term for Asians, which sarcastically mimics the way Chinese people talk in their language.
After receiving the receipt, Kim said, "I couldn't believe what I saw, so I even asked the customer next to me if it really said 'CHING' on my receipt." The customer, who's race was not Asian, was immediately upset and went up to the manager to complain, Kim said.
The manager apologized right away and offered a refund. However, Kim said "I don't need such thing. I want the employee to take the responsibility." Then, Kim got the employee's contact information.
Yet, both the manager and Burger King's spokesperson are declining an interview.
During the phone conversation with the reporter, the spokesperson of the airport said, "The Burger King franchise in our airport is currently owned and run by the company 'Trinity Group Global'. Our airport is always remaining steadfast in our beliefs in terms of understanding all races and cultures. We are also having communication training for all employees within the airport."
Trinity Group Global has told that they are "currently investigating the case".
Original article
by Cho Hyun-bum
Translated by Audrey Joung