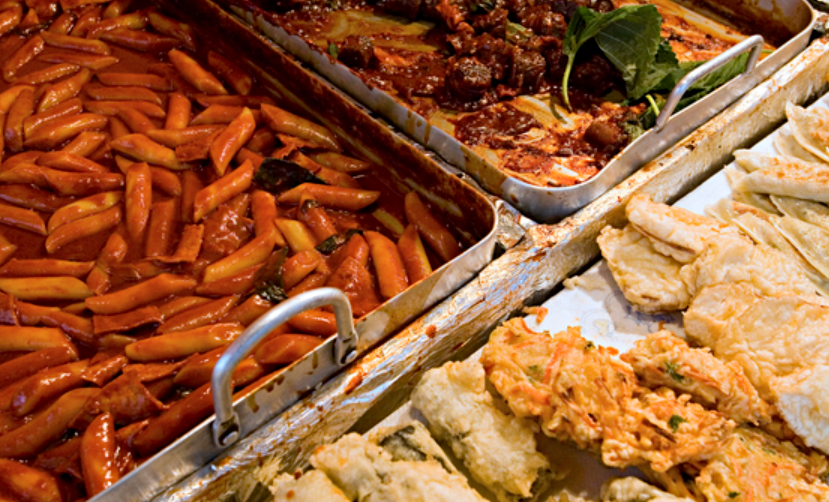 Gooey red-hot rice cakes with a side of sundae (blood sausage) and a fish-cake skewer, all for typically less than 7,000 won ($5), is a simple pleasure for many Koreans.  

Collectively called bunsik, these and other affordable, snack-like foods are a quintessential part of Korean life, as often captured on various Korean films and shows: BTS's V devours a potful of black bean ramyeon on the cooking-travel reality show "Jinny's Kitchen," Young-woo from last year's hit drama "Extraordinary Attorney Woo" eats a roll of gimbap every morning, and the scheming couple from Oscar-winning film "Parasite" (2019) cooks up a sumptuous plate of Jjapaguri ramdon.

Literally meaning food made with flour, bunsik took the backseat 70 years ago in a country that was more fond of rice. But after the Korean War (1950-53), there was a massive rice shortage, and the government began a pro-bunsik campaign from 1963 to 1976, essentially banning foods made solely with rice.
Bunsik ultimately came to power Korea's striking economic transformation, feeding the rice-poor people and supporting the hard work ethic that drove unprecedented progress at times practically a miracle.
The pro-bunsik movement foremost boosted the popularity of instant noodles, also known as ramyeon. In Korea, it was first produced in 1963 by the food manufacturing company Samyang Foods. It was chicken-flavored with fried flour noodles, made with technology from Japan. Samyang sold 2.4 million packets in one year in 1966 as reported by the company, and then 15 million in 1969.
The iconic tteokbokki (spicy rice cakes) cooked with gochugaru (red pepper powder), gochujang and flour "rice" cakes is widely understood as having been created by Ma Bok-lim in 1953. She has since passed away, but her tteokbokki eatery still exists today, run by her daughters-in-law in Sindang-dong of Jung District, central Seoul.
Her spicy tteokbokki, however, wasn't quick to see fame; soy sauce-covered rice cakes were more commonplace throughout the 1960s. However, they became mainstream in the 1970s with the help of the pro-bunsik movement. As Ma's tteokbokki garnered popularity, similar tteokbokki stores opened on the same street, which to this day is still called Sindang-dong tteokbokki street.

All the tteokbokki places on this street sell jeukseok, or on-the-spot, tteokbokki, meaning that the dish is cooked in front of the customers. This type of tteokbokki tends to be less starchy, with ample additions such as ramyeon noodles, fish cakes, sausages, pieces of cabbage, leeks and a hard-boiled egg.

Tteokbokki places have also become a cultural play space among students as eateries began hiring DJs who would play their playlists and take song recommendations from the store's customers. Some tteokbokki places in Sindang still have a DJ booth.
Gimbap is a late joiner to bunsik as it was usually made at home, reserved for special occasions when portability was essential, like for school picnics and trips, throughout the '70s and '80s.

Its more meager form, mayak gimbap (mini versions of regular gimbap) began to appear at bunsik places, and then, by the 1990s, gimbap franchises like Kimbap Cheonguk began popping up, selling standard gimbap for just 1,000 won along with dozens of other bunsik items.

Standard gimbap is rice, vegetables and some sort of protein wrapped and rolled inside a dry piece of seaweed and then sliced into bite-sized rolls.  

The ingredients inside gimbap vary widely, but a typical roll has danmuji (pickled radish), ueong jorim (burdock root boiled in soy sauce), carrots, spinach, cucumber and a protein like canned tuna and mayonnaise, ham or egg.
How bunsik changed

Though a major appeal of bunsik has always been its affordability, the soaring prices of ingredients have led to unavoidable price hikes.
The average price of gimbap, for instance, surpassed 3,000 won for the first time last year, according to the Korea Consumer Agency.
Ottogi, one of the leading ramyeon brand producers, increased the price of its Jin Ramen for the first time in over a decade in 2021 from 684 won to 770 won. 

But one way that bunsik has been able to stand the test of time is through different varieties.

Some of the trending sauces for tteokbokki include rose, truffle cream, basil and mala (a spicy, numbing seasoning made from Sichuan peppercorn and chili). Eateries, especially tteokbokki franchises, offer dozens of toppings, from different types of noodles and cheese to thinly sliced beef and seafood.

There are seemingly endless types of gimbap these days, from hefty bulgogi gimbap to vegan and keto gimbap, catering to the more diverse dietary preferences. Trendy gimbap places today tend to have less rice, are packed with different fillings and are served with a side of dipping sauce.

Ramyeon has exponentially grown in varieties as well. Nongshim, Samyang and Ottogi — the three leading ramyeon producers — together alone, sell some 250 different kinds of instant noodles. 
Over-the-top spicy noodles had been all the rage ever since Samyang's Buldak, or Hot Chicken Flavor Ramyeon, hit the market in 2012, but more recently, healthier ramyeon in the form of non-fried noodles is seeing popularity. Nongshim's Shin Ramyun Geonmyeon non-fried instant noodles first saw popularity, and its profits are still rising. Last October, it reported its revenue increased for the noodles by 15.7 percent in 2021, totaling 15.5 billion won. won. These noodles have smaller portions — about 20 grams and 150 calories less than regular Shin Ramyun. Ottogi and Samyang have since released their own non-fried instant noodles as well.

The market for bunsik is growing outside of Korea as well, in hand with the country's entertainment exports.
Nongshim's Shin Ramyun saw 430 billion won in revenue in Korea and 500 billion won overseas, achieving annual sales of 1 trillion won with only a single product, and for the first time in history, its overseas sales outpaced domestic sales.
Exports of rice cakes last year were $65.85 million, up 22 percent from the previous year, according to Korea Agro-Fisheries & Food Trade Corporation.

Witch Topokki opened its second store in the United States earlier this year. Dookki Tteokbokki has some 141 stores in eight countries including Australia, Singapore and Vietnam. NBC News reported in early March that its U.S. sales of pre-packaged tteokbokki by O'Foods, a global Korean food brand, increased 450 percent over the last year.
Korean hot dogs, which are essentially corn dogs with a sugar dusting, were the second most exported frozen food in Korea last year. Exports tripled from $1.65 million in 2021 to $4.84 million in 2022.
The Korea Agro-Fisheries & Food Trade Corporation reported that "interest in hot dogs through Korean dramas led to purchases."

"As interest in Korean culture, such as K-pop and K-dramas grows, Korean food is garnering the interest of those outside of Korea," said an employee from Dookki Tteokbokki. "Their versatility and flexibility in ingredients to suit other cultures has played into their rising popularity as well."
BY LEE JIAN [lee.jian@joongang.co.kr]