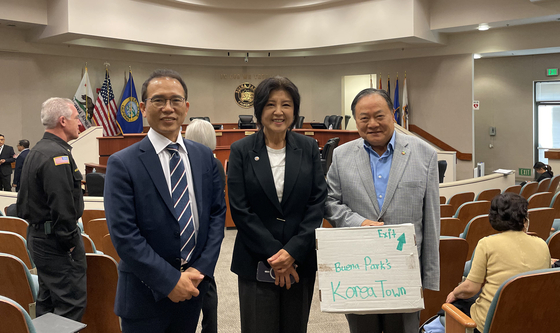 Buena Park's Korean American neighborhood has officially been designated as Koreatown. The Buena Park City Council approved this designation, initiated by District 1 Councilmember Joyce Ahn, with unanimous support from all five council members during its meeting on September 26. This makes Buena Park the second city in Orange County to establish an official city council-designated Koreatown, following Garden Grove, which designated Koreatown in 2019.
The designation encompasses a three-mile stretch, beginning from The Source Mall on Beach Boulevard and extending to Rosecrans Avenue through downtown. The Source Mall, a prominent landmark in Buena Park, is situated at the intersection of Orangethorpe, which serves as the southern boundary of Koreatown.
Furthermore, the council has approved the creation of a Koreatown signboard to be placed at five key intersections: Beach Boulevard intersections with Orangethorpe, Commonwealth, Artesia, Malvern (west to La Mirada Boulevard), and Rosecrans Avenues. The aim is to have the signboard in place before the World Korean Business Convention, scheduled from October 11 to 14 at the Anaheim Convention Center.
Councilmember Ahn expressed, "The Koreatown signboard will be visible to many visitors to Buena Park during the convention." This signboard will incorporate the blue, red, and white colors of both the Korean and American national flags, along with the words "Buena Park Koreatown" and the city logo.
Additionally, the council has decided to run video advertisements promoting Koreatown on LED billboards at the intersection of the 5 Freeway and Artesia, as well as LED billboards at The Source Mall. Furthermore, the council has agreed to install Buena Park Koreatown signs at freeway exits that pass through the Koreatown neighborhood, including the 5 and 91 freeways.
Joe Pak, a senior aide to California State Assemblywoman Sharon Quirk-Silva, will assist in getting approval from the Assembly for the installation of the freeway signs.
Koreatown naturally connects to the entertainment corridor, which includes attractions such as Knott's Berry Farm, Knott's Soak City, and Medieval Times on Beach Boulevard—designated by the City of Buena Park as a tourist destination. Councilmember Ahn commented, "I believe the City Council has acknowledged the significant contributions of the Korean American community. I am elated. The designation of Koreatown will draw more visitors to Buena Park, benefiting Korean American businesses and increasing city tax revenue."
At the City Council meeting, Sean Roh, president of the OC Korean American Chamber of Commerce, and Joe Pak, senior aide to Assemblywoman Sharon Quirk-Silva, voiced their support for the designation.
Buena Park is home to 10,852 people of Korean descent, constituting approximately 13 percent of the city's 83,968 residents. Notably, Buena Park is the sole city among 34 in Orange County with over 1,000 Korean American businesses.
BY LAWRENCE SANGHWAN LIM [lim.sanghwan@koreadaily.com]