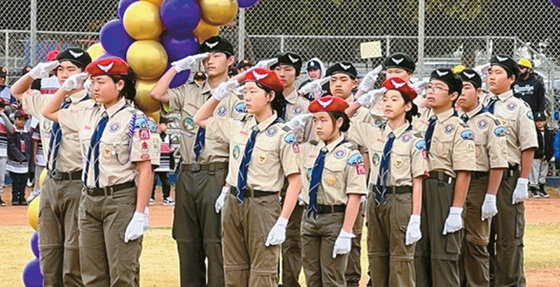 The essence of volunteerism will shine brightly during the Korea Daily and Happy Village's 2023 10th Annual LOVE SHARE 5k/10k run/walk, located at Wilshire Boulevard and Western Avenue in Koreatown, L.A. Spearheading the event will be a contingent of second-generation Korean American boy scouts.
Over 50 scouts from BSA Troop 278, under the leadership of Scoutmaster Haksu Han from regions like East Los Angeles, Hacienda Heights, and Diamond Bar, will be stationed across the event site from 6:45 a.m. Their roles include assisting with parking and guiding the runners.
To kick off the event, the start line will be meticulously organized, ensuring participant safety. Preceding the awards ceremony, 10 color guards will take the lead, marching participants to the podium bearing the American flag and their troop banners.
After the event is over, they will stay until the end to clean up every inch of Wilshire Street.
"All of our members will be wearing uniforms and volunteering to make it easier for marathon participants to get help," said Scoutmaster Han.
He added, "Given that this year's marathon embodies the theme 'Stop the Hate & Sharing Love Community', we're expecting a diverse participation. We eagerly anticipate embodying the spirit of love and service alongside our Koreatown neighbors."
Celebrating its 25th anniversary, BSA Troop 278 is the top chartered scout troop in Southern California. It pioneered the district's first girls' troop charter in 2019. Furthermore, just last year, it saw the graduation of the inaugural female Eagle Scout graduation. Two of the troop's women even represented the U.S. at the World Scouting Jamboree in South Korea in August 2023.
The troop boasts five male and four female leaders, and an outdoor training officer. Their expertise spans a plethora of outdoor adventures such as extensive hikes, alpine climbing, long-distance biking, horseback riding, kayaking, and light aircraft journeys. Their aim is to equip Korean American youth with vital life skills.
Community service is integral to BSA Troop 278. Their endeavors range from the Eagle Project, local event traffic control, beach clean-ups, flag ceremonies, and parades. This year, their exemplary participation earned them second place in Hacienda Heights' Fourth of July parade.
Additionally, they collaborate with local law enforcement, ensuring their troop receives training in crime prevention, active shooter scenarios, traffic safety, and annual CPR and first aid certifications. Moreover, they ardently back initiatives that allow young individuals to secure diverse certifications.
BY NICOLE CHANG    [chang.nicole@koreadaily.com]