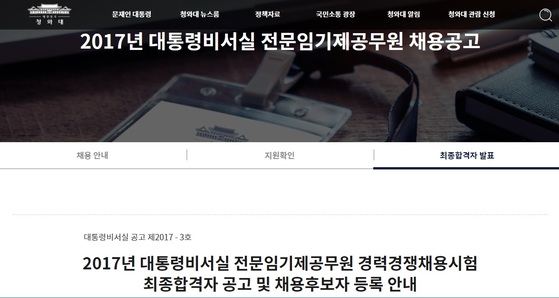 On December 13, Blue House, the executive office of the South Korean president, announced the result for its first 'blind' recruitment. For all six available positions – one Employment Statistics Specialist, one Translation/Interpretation Specialist, two Cultural Commentators, one Video Specialist, and one Photo Editor – female applicants are employed.
A total of 266 people applied for positions, making the competition rate 44:1. 83 applicants applied for the Translator/Interpretation Specialist position, comprising the highest portion.
For the blind hiring process, the Blue House announced that they wouldn't ask for information about school, birthplace, gender, age, or family. Information about college major was one of the only information required, to evaluate the job relatedness.
During the interview, too, applicants are evaluated based on their careers and work plans. More than a half of interview participants were outside specialists in the related fields. For the professional skills test, candidates were tested in various ways including employment statistics analysis, English-Korean translation and interpretation, presentation of cultural comments, and video/photo portfolio evaluation.
"The blind recruitment enabled us to hire talented female specialists who had rather been excluded in the traditional hiring process," said Secretary-General Lee Jung-do, who was in charge of the recruitment process. "The age range, too, varied much, showing 20s to 40s."
Original article by Wi Moon-hee