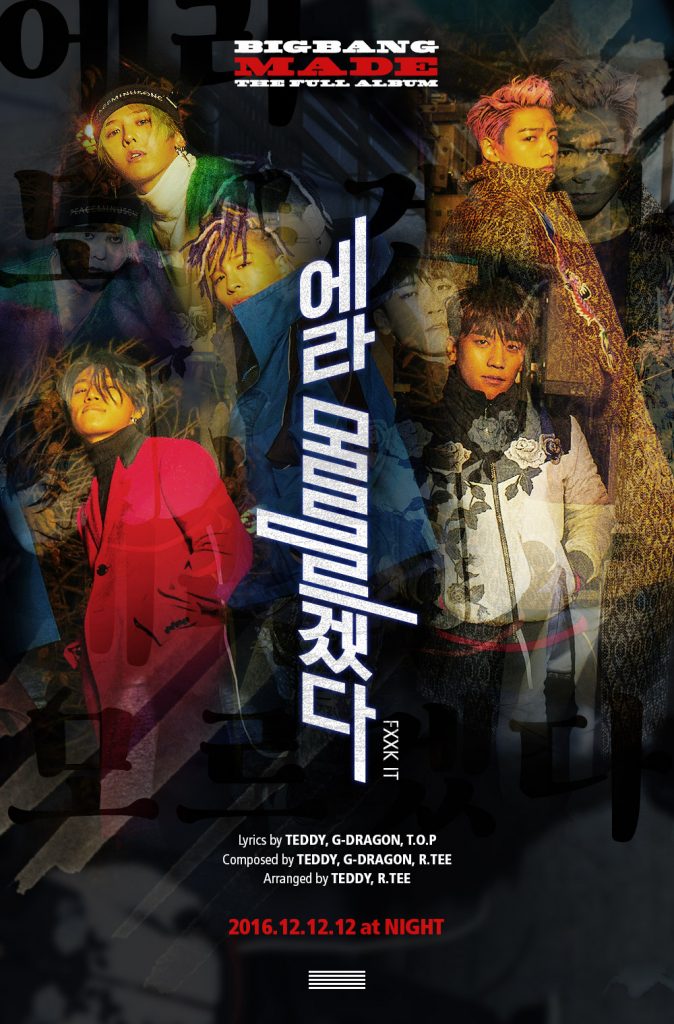 K-pop heavyweights Big Bang are coming back with the upcoming "FXXK IT" as the lead single off their next record "Made Full Album."
The boy band revealed teaser posters on Tuesday that unveiled the first of two title tracks that will be released on Dec. 12. According to the posters, the single was produced by band members G-Dragon and T.O.P along with YG Entertainment producers Teddy and R. Tee.
Not only will the boy band's upcoming album contain their first new music in a year, but it would also be their last album as a full group before the members start enlisting for their mandatory military service. T.O.P has already been accepted into the National Police Agency and will reportedly begin his service early next year.
According to YG Entertainment, the album will also contain the group's releases from last year, including their smash hits "Bang Bang Bang," "Loser," "We Like 2 Party," and "Bae Bae."
The boy band is scheduled to make guest appearances on popular variety programs, such as MBC's "Infinite Challenge" and "Radio Star." They will also put on a special performance at this year's annual SBS Gayo Daejeon music event.
By Chung Jin-hong