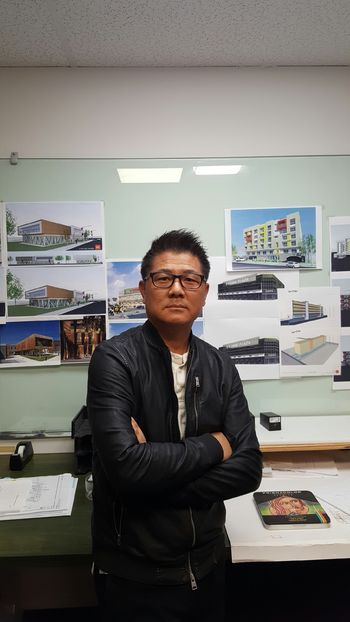 Korean-American apparel business Active USA won an architecture award presented by the Los Angeles Business Journal (LABJ). Active USA's "Active Pico Showroom" came in first at the 2017 commercial real estate award's remodeling criteria. On the podium to accept the award was Steve Kim, the head of EWAI Architects.
Active Pico Showroom was recognized for its aluminum panels and two-story glass structure which helped to provide a wide vision of the entire property.
Kim first won the award in the late 1990s, but his second accolade takes a special place in his career accomplishments as it marks the return of an architect who has been away from the industry for more than a decade.
After graduating from UC Berkeley with a BA in architecture, Kim began his career in the real estate industry. However, he soon turned into a sports agent after meeting Chan-ho Park, South Korea's first ever major leaguer who pitched for the L.A. Dodgers from 1994 to 2001 and in 2008.
Kim was in charge of the deal that brokered the South Korean college sophomore out of Hanyang University in 1994 to sign for the Dodgers for $1.2 million. Since then, Kim has been more known as a sports agent than an architect.
Kim left the sports agent job in 2002 when Park signed with the Texas Rangers as a free agent in 2002. After his sports marketing business failed several times since then, Kim revived his architectural career and was finally able to recover what he once had built.
EWAI, Kim's architecture firm near Seventh and Virgil, currently has a staff of six employees. Kim remains as busy as ever, working on various projects in both Koreatown and downtown. He is in charge of more than half of the new hotels that are set to be built in Koreatown.
"It was a new experience to work as a sports agent," Kim said. "I have no regrets. In fact, having a different experienced helped me to appreciate being an architect more and it now encourages me to work even harder."
Kim added: "I'm more interested in building a well-designed property rather than pursuing a big business."
Kim has kept a close relation with Park, who has retired. The two occasionally play golf together. Kim's love for baseball is still going strong, as evidenced by his black glove at his office.
"I also played softball with my co-workers," Kim said. "I was both the pitcher and a leadoff hitter. I plan on making a team again if my company ends up hiring a 10th employee."
To Kim, his relationships with Park and baseball still remain as unforgettable memories.
By Moon Ho Kim