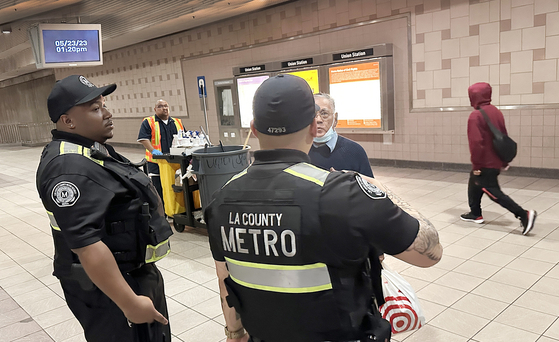 A 53-year-old Asian woman was attacked by another passenger on a Metro train in Long Beach. The victim reported that a man pointed out her race, saying, "Hey! Asian woman, don't tell that man that," then a woman started repeatedly punching her in the face using racial slurs. The victim, who suffered cuts on her face, said she never wants to ride the Metro train again.
According to the Long Beach Police Department, the assault occurred on a Los Angeles County Metropolitan Transportation Authority (LA Metro) A Line (formerly Blue Line) train between Pacific Coast Highway and Willow Stations at approximately 5:38 p.m. on May 17.
Officers who responded to the call found the victim, a 53-year-old Asian woman, with minor wounds to her face and forehead. According to the victim and witnesses' statements, she was traveling with a friend on the A Line train from Downtown Long Beach to Downtown LA.
She asked her friend(man) to take his hand out of the aisle because a woman was standing there. According to CBS News, she told her friend, "Hey, don't do that. Don't put your hand out as there may be a misunderstanding."
That's when the man sitting behind them started yelling at the victim, calling her an "Asian woman." Then, a woman jumped in and started yelling, which prompted the victim and her friend to change cars. However, the woman followed them and started punching the victim in the face.
"It was a brutal attack. A very, very brutal attack that should never happen," one witness said of the incident.
"She started punching, and I just fell backward," the victim, who wished to remain anonymous, told CBS LA. "I just didn't want her to punch me anymore. I was so afraid."
According to the victim, a Good Samaritan was able to prevent the attacker from coming back, then called 911 and the train conductor. The conductor stopped the train at the next station, and the attackers fled the scene. The woman recorded the attack on her phone and gave it to the police.
"I felt so ashamed I was in that position. So just my dignity was stripped away. I never want to ride the Metro again," she said, alleging a possible hate crime.
Los Angeles County Supervisor Janice Hahn, who also chairs the Metro's Board of Directors, called for a thorough investigation. Hahn noted that women as well as other L.A. residents who rely on the LA Metro for transportation are at risk. In fact, violent crimes on the L.A. Metro have increased by 24% compared to the same period last year.
"$175 million we spend for law enforcement… Then on top of that, we have 275 people that are just LA Metro security team. And on top of that, we just hired 300 ambassadors," said Hahn.
"This one really hit hard because I'm wondering where everybody was that we hired. I will be asking for a full accounting of where our transit ambassadors, Metro security, and Long Beach Police officers assigned to Metro were at the time of this attack."
BY HYOUNGJAE KIM [support@koreadaily.com]