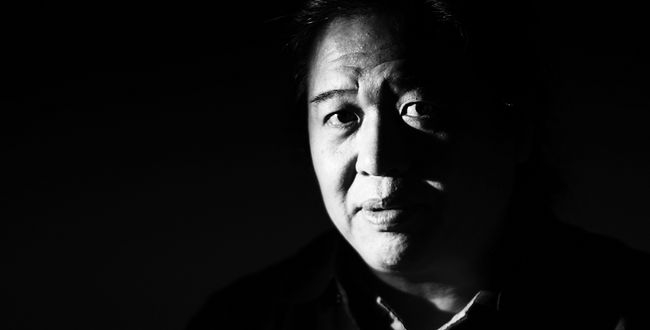 "This is my current appearance. How stupid do you have to be to travel through a dense forest in a boat? But that's how our lives are. It's rather boundless."
Forest of Life, the artwork 50-year-old painter Byung-chun finished three months ago, is a promise to himself. He gave up his job as a professor back home in South Korea to take on a new challenge in the United States. Park recently visited Los Angeles and met with the Korea Daily.
"I promoted myself to newspapers when I was a budding artist," Park said. "How I felt then is how I feel now in the U.S. I don't care if you're pushing me towards the end of the cliff. I just need them to continue to push me forward."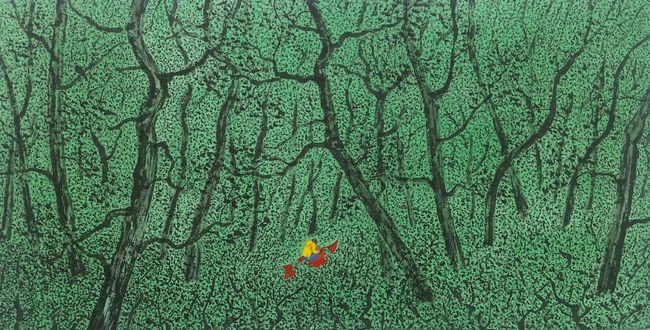 In Korea, Park has no reason to feel desperate. As he insisted on investing himself in completing style of painting called "Byung-chun joon," drawn with materials made of stones, he admits that he has been painting with the mindset of "piercing through a rock with a knife."
Park's work is not only limited to a canvas. He has worked on various installations to express his Korean-style artistry nearly for the last three decades.
He has laid down 3,000 blocks of instant ramen noodles to express the weaving lines of a brush and also put a pile of scrunched black plastic bags to complete another piece. In 2013, his exhibition "Byung-chun Park: Asking for a Direction" at the Sung Gok Art Museum in South Korea also included hanging a maple tree on the ceiling. Below the tree that was hanging upside down, the space was filled with a water tank to depict a bigger landscape.
Park said his artwork simply expresses his own life.
Born in North Chungcheong Province in South Korea, Park moved to capital city Seoul while attending fifth grade in elementary school and has lived away from his family since then. He went to college three years later than others as he once felt that there was no need for him to attain higher education.
He spent those gap years as a construction and factory worker. Park only chose to attend Hongik University as an art major. He got married during his senior year in college, followed by the fulfillment of South Korea's mandatory military service. Then, he had his enlightening moment in 2001 in the U.S.
"I wanted to get some advice for my work, so I went to Soho in New York City and visited about 100 art galleries," Park said. "Everyone said my artwork reminded them of European style of work. No one saw it as something that was distinctly Korean."
That is when Park chose to go back to his roots. He became obsessed with collecting different sceneries. Park began travelling across South Korea to observe yards and mountains. He later completed a series of landscapes, which included over 3,000 pieces.
Park also drew icons as his signature in the corners of his ink-and-wash paintings. He tried to modernize Korean art by drawing in the likes of a yellow mailbox and a red sofa while keeping the backdrop traditionally Korean. One of his pieces was displayed at the 2015 Venice Biennale.
Park has a disdain on keeping himself within a frame. That is why he recently resigned from his post as a professor at Duksung Women's University, so that he could focus entirely on fulfilling his goal of introducing traditional Korean art in the U.S.
"Korean art should be called Korean art, not Asian art," Park said. "Shouldn't we let the world know what Korean painting is?"
As his first step, Park is planning to showcase his work at next year's L.A. Art Show. When asked about his final goal, he sounded rather firm.
"Guggenheim," Park said, referring to the prominent art museum in New York City. "That will be the start that will mark the globalization of Korean art."
Park is still sailing on his boat in a forest.
By Koohyun Chung