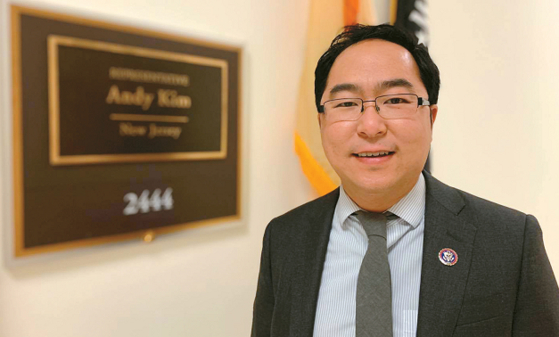 Third-term U.S. Representative Andy Kim (NJ) is running for the U.S. Senate, a move that has drawn attention not only from the Korean American community but also from the broader Asian community. Kim announced his candidacy three weeks ago and has been vocal about the need to oust incumbent Bob Menendez from the Senate.
"For the sake of my children's future, I can't pretend as if nothing has happened in the past few years," he said. "Anyone who has experienced the turbulence on Capitol Hill, including the Capitol riots two years ago and Trump's impeachment, would feel the same way."
How does it feel to run for the Senate?
"A lot of Korean Americans have supported me. I'm grateful for that. I will do my best to make sure that Korean American voices are heard in this country."
How are you preparing for the Senate race?
"We had a very energetic start. We've had three weeks of big events, and as of today, we've raised $1.9 million, and I know a lot of Korean Americans have contributed. If this dream comes true, I will be the first Asian U.S. Senator from the East Coast. New Jersey is home to more than 1 million people of Asian descent, including many Korean Americans. I've spent the last two weeks meeting with my constituents, and the energy is so strong. I will carry that aspiration into the Senate."
Menendez has not yet been sentenced by the court, isn't it too early to start your election campaign?
"That's right. There is still a judicial process and his legal rights should be guaranteed. But the current allegations indicate that he should not serve in the Senate, at least not in a moral sense. There are certain qualifications and standards expected of the Senate Foreign Relations Committee Chairman. Federal prosecutors have determined that he is working for the government of another country. He has violated the honor and dignity of public office. The fact that he still has access to sensitive information and materials is a very dangerous situation, and I am calling for his resignation."
Another war has broken out. You have worked in the White House (Barack Obama's administration) security team and went to Afghanistan. On the U.S. role in the wars in Ukraine and the Middle East, what are your thoughts?
"The United States remains a powerful country in these uncertain situations. Some politicians say we should stop supporting Ukraine, but the United States still needs to stand in solidarity with our allies, and the same goes for Israel. We need to take a strong stand against Hamas, which is engaged in indiscriminate terrorism against civilians."
You said you decided to run for the Senate because you're a "father of children." What does it mean?
"I promised my wife and kids (my 6- and 8-year-old sons) that I would always keep them safe. When I brought up the idea of running, everyone agreed that we need smart, dedicated leadership to guide us through this crisis, and they agreed to support me fully. I will reciprocate their support through victory."
Your appearance during the January 6 U.S. Capitol attack went viral.
"January 6, 2021, is a day when something tragic occurred that really shouldn't have happened. As I was picking up trash on Capitol Hill, I kept thinking, 'Is this the America we've been taught,' and 'Is this the America we're supposed to be representing, with Americans at gunpoint on Capitol Hill?' I was heartbroken that my place of work, representing the people, had become such a battleground. Cleaning up the trash was a subconscious act, nothing more, nothing less. Many people contacted me to say they were impressed. I'm still somewhat embarrassed."
I've also heard that the blue suit you wore became so popular that you donated it to the Smithsonian.
"I wore it to the Rayburn House Office Building and the Rotunda hall on January 6, and I wore it to the Trump impeachment vote a week later on the 13th, and it was hung in my closet at home, covered in dust and sweat. For some reason, I was reluctant to wear it again. Then the Smithsonian contacted me, and I donated it."
Is it time for the first Korean American senator?                                                  "Absolutely, it's about time. Someone should have achieved this milestone a long time ago. Competent and prudent Korean Americans should have played a significant role, but unfortunately, that hasn't been the case. It's essential to set a great example for the subsequent generations. This is an opportunity to shatter that glass ceiling."
Any comments to the Korean American community for support?
"I hope the community will show immense support and love for a Korean American senator with dreams and courage. I call on all Korean Americans and overseas Koreans around the world to support me if you align with my beliefs. I will do my utmost to achieve more in the future. Thank you."
Meanwhile, according to the New Jersey Globe, Kim's approval rating, as conducted by the liberal pollster Public Policy Polling, shows that in a head-to-head between Kim and incumbent Senator Bob Menendez, Kim has a dominant 63%-10% lead among likely Democratic primary voters.
BY BRIAN CHOI, JUNHAN PARK   [ichoi@koreadaily.com]