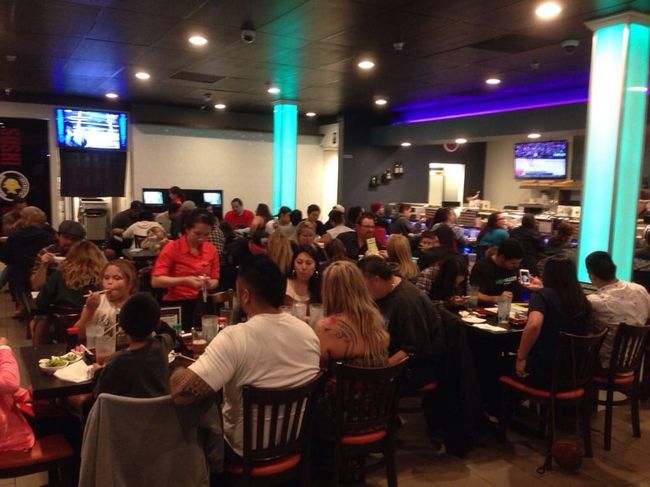 Only about five years ago, Todai was just about the only sushi buffet available in Southern California. Now, the trend that once started with Todai has expanded into a larger all-you-can-eat chain restaurants.
The all-you-can-eat concept first started with Korean barbecue restaurants in Los Angeles Koreatown, but the same type of service has now been implemented with serving sushi.
In L.A. County alone, there are nearly 500 sushi restaurants providing all-you-can-eat services. Many of those restaurants not only serve a part of their menu as all-you-can-eat, but every entrée they serve to their customers at a price range of $22 to $30.
Of those sushi restaurants, about 80 are run by Korean-American owners, according to Yelp. Some of them have turned into a chain business, entering markets in other states. The competition to ensure quality and quantity at an affordable price has been fierce for a long time.
The biggest Korean-run, all-you-can-eat sushi brand is Sake 2 Me. It is currently operating in Cerritos, Tustin, Simi Valley and Texas. Even though it is sharing the same name, each location is run by different owners.
"Our biggest selling point is that customers can enjoy large quantity at an affordable price," said one of Sake 2 Me's owners, only identified by his last name Park. "The customers who've been here before often pick seven or eight of their favorites after having been here once. Simply lowering the price will no longer help to prolong the life of any business these days."
Show Sushi, run by a 15-year veteran in the business, first started in San Dimas five years ago. Last week, its second location opened in Orange County's La Palma.
"About 30 of our employees are rotating between afternoon and evening shifts," said Joon-ho Sun, the La Palma location's manager. "We obviously prioritize the quality of our food, but we've also focused heavily on offering the best service to accommodate our customers."
Average consumers often wonder if running an all-you-can-eat restaurant is even profitable.
Regardless, many of them seem satisfied with the quality of food at all-you-can-eat sushi restaurants.
"The turnaround rate is slow during peak hours so having to wait for a table was a bit frustrating," said Suzanna Lee, 34, who recently visited a Korean-run, all-you-can-eat sushi restaurant. "But to be able to enjoy different types of sushi and sashimi with a drink for about $30 was a good experience."
However, some critics expressed their disappointment in the quality of sushi.
"It was clear that some of their menus were once frozen so that threw me off a bit," said Terry Kim, 50. "I thought at first that it was a cost-efficient dining experience."
A president of a distributing company, only identified by its initial H, who supplies seafood to markets in Koreatown, said: "It's virtually impossible to keep every menu at a sushi restaurant fresh especially at all-you-can-eat businesses. If the customers can select their menu wisely, that could pave the way for them and the restaurants to co-exist."
It has also been revealed that many customers at all-you-can-eat sushi restaurants are non-Koreans, hinting that the market for such a business could be larger than a lot of the traditional Asian restaurants.
By Brian Choi