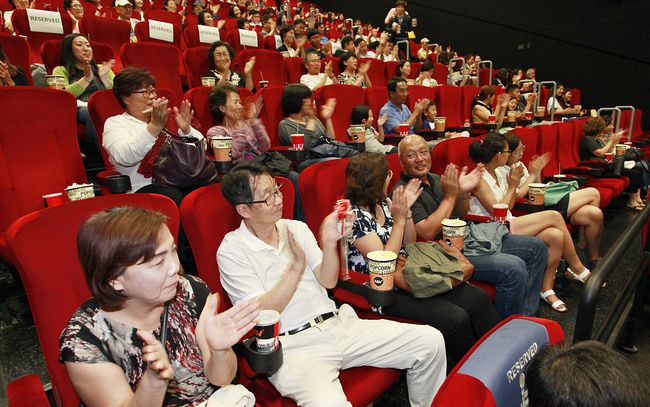 Amid the patriotic fervor stirred by the ongoing Rio Olympics, CGV Cinemas in Los Angeles Koreatown held the premier of the recently released South Korean sports drama film Take Off 2 on Tuesday.
The film, directed by Jong-hyun Kim whose filmography includes 2004 baseball film Mr. Gam's Victory, was inspired by a true story as it depicts the South Korean women's national ice hockey team, a ragtag group of players assembled to help its country meet the requisites for hosting the Winter Olympics.
Take Off 2 centers on the leading role played by Soo Ae, one of South Korea's leading actresses, who in the film is a naturalized international ice hockey player from North Korea after she had defected the hermit country.
Led by a head coach who during his playing career was a perennial bench warmer, played by comedic actor Oh Dal-su, the rest of the team assembled in the last minute includes a banned speed skater, a bored housewife and a middle school student.
Hyang-soon Seo, a gold medalist archer at the 1984 Olympics in L.A., as well Baek-nam Moon who was the member of his country's triumphant national team at the 1983 Asian Men's Handball Championship attended the premier.
"The film really goes hand in hand with the current Olympics," said Seo. "I've been supporting our athletes recently, and this is a film that's relatable to anyone who has been supporting Korea in Rio."
Take Off 2 could also serve as an educational film to second generation Korean-Americans who may not be familiar with the geopolitical landscape of the divided Korean peninsula. The role played by Soo Ae reinterprets the true story of former North Korean ice hockey player Hwangbo Young, who in 1999 defected to South Korea.
"It's an entertaining film, but it goes beyond a mere sports story" said Brian Choi, a resident of La Palma who attended the premier with his family. "For ethnic Koreans who've been educated in the U.S., this film could make them reflect on their identity, as the story is ultimately about the polarizing human relations between the two Koreas."
Se-yeon Choi, an 11-year-old who was at the premier with her parents, added, "This movie showed me how Korea's division is causing pain to the people."
Take Off 2 began screening at L.A.'s GCV Cinemas on Thursday. Starting Friday, the screening will expand to nine more cities, including Fullerton, across the country.
As indicated in the title, the film is a part of the franchise after the original Take Off, released in 2009, which portrayed a similar story of South Korea's ski team led by a Korean-born American.
By Seung Woo Shin