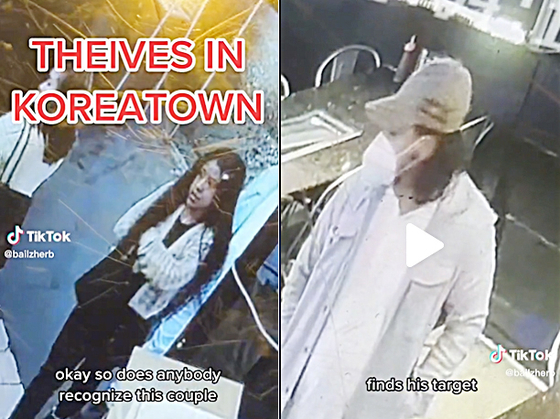 There is a male-female couple visiting Korean restaurants in LA Koreatown and engaging in a series of thefts against customers.
One of their victims of theft from a restaurant on Wilshire Blvd. at around 6 p.m. on the 19th, posted a video of the incident on social media.
The video depicts a long-haired woman and a man with a mask covering his face entering the restaurant. While the woman goes to the bathroom, the man looks around, then leaves with a woman from the bathroom with a customer's bag hung next to a table.
The victim said, "From the CCTV from the restaurant, the female suspect appeared to have disguised herself with a wig," adding, "The police explained that the incident is likely to be a series of thefts. Wherever you go, you should always stay alert."
Another victim, B, posted a related video saying he was also targeted and stolen from. He claimed that the bag he had hung behind the chair disappeared while eating at a restaurant in Koreatown at around 7:40 p.m. on the 5th. In the restaurant's CCTV footage, the same couple that stole the former victim's bag also snatched and left the restaurant with the bag hanging on the chair behind victim B.
On social media, at least three similar crimes were found to have been committed by the same criminal in Koreatown at a similar time frame.
KIM YE JIN [yejin3@koreadaily.com]