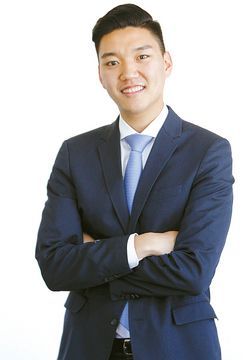 A second generation Korean-American man is drawing attention after displaying his talents at talent recruiting over the years.
Justin Kim, 23, has recently been promoted to become America's No. 1 recruiting firm Robert Half's division director at its L.A. office. After earning the new job title in just a year since starting at Robert Half, Kim became the youngest division director at the company, which oversees 150 branches across the country.
Normally, it takes more than three years for an entry level employee to become an account executive and an additional five years for a division director position. Hence, Kim's rise to his new position is something of an exception.
Kim is now working alongside directors in their late 20s and mid 30s Robert Half's L.A. office in downtown's TWC Tower. His primary task centers on the IT industry, encompassing finance, health care and legal aspects. His role is to find the most ideal candidates looking for jobs in those industries and connecting them to employers.
Kim believes that his recent work with finding 20 IT experts for a $1 billion project run by Forever 21 earned him the plaudits at Robert Half for him to earn his promotion.
Growing up as a kid aspiring to become a baseball player, Kim was an underhand pitcher in his freshman year at Wesleyan University. He sustained a critical shoulder surgery during his first year and the diagnosis ruled him out from prolonging his baseball career. A year later, Kim transferred to Northwestern University to major in business management. After graduating in 2015, he immediately began working for a headhunting firm in Westwood.
"I always liked talking to people," Kim said. "I enjoy helping people around me so that they could succeed. It's always good when someone you know does well."
Within just six months, Kim rose to the cream of the crop at his first job. That is when Robert Half stepped in to offer him a job.
"It was a No. 1 company in the industry," Kim said. "The conditions were good. There was no reason for me to not take their offer. I wanted to compete with my peer at a big company."
Hiring Kim paid immediate dividends for Robert Half.
"Maybe it's from my sporting background," Kim said. "Once I set a goal, the only way I relax is after I pour 200 percent of my effort."
Kim has since received job offers from other companies. There are more than 300 headhunting companies in L.A. alone. Robert Half's decision to promote Kim was to ensure that they keep one of the city's hottest commodities within the industry.
"Robert Half provides training for job seekers," Kim said. "There's a program that's specifically dedicated for that. That is why the companies dealing with Robert Half can trust us."
A list of Kim's clients includes Citi National Bank, Hyperloop and Forever 21.
"I've heard many times that Korean companies struggle to secure enough human resources when they need," Kim said. "It's rare to see them utilize companies like us to recruit employees, though. That tells me that many of them do not take into account the loss that comes from not hiring people in a timely manner. It's important that Korean companies understand the importance of securing qualified individuals when you need them as today's market is more competitive than ever before."
Kim added that he has a plan to one day run his own recruiting company centering on the Korean community.
"Supporting talented people is the most important work in gaining competitiveness," Kim said. "It would be great if I could grow alongside the Korean community that way."
Kim is the youngest son of Neo USA Food president Bong-hyun Kim, who has been tipped to serve as the incoming vice president of L.A. Korean Chamber of Commerce.
By Moonho Kim