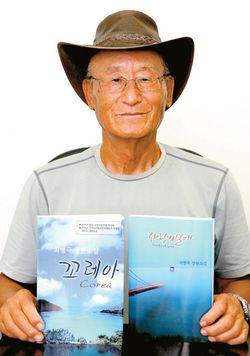 An 80-year-old Korean immigrant living in Orange County recently released a romance novel.
A resident at Leisure World in Seal Beach, CA, Choi Byung-guk published his second novel, Fruits of Love, in April. On August 28, Choi celebrated the publication at the clubhouse of the retirement community.
Choi is also known as the author of Corea, which is a fictional novel about the 7th descendant of Marco Polo. The novel depicts Polo's visit to Korea as his ship gets struck on a rock.
Compared to his previous novel based on history, the newly released novel, Fruits of Love, illustrates a romantic relationship.
"I wanted to write on various themes," said Choi. "I've completed the manuscript 5 years ago. I decided the publication as many suggested me to write a love story."
Fruits of Love is a fictional novel which depicts a romantic relationship between a U.S. branch manager of a Korean conglomerate and a Korean widow.
Writer Choi Byung-guk moved to the U.S. after graduating Korea University. Originally moved to study at Ohio State University, Choi and his wife managed their restaurant business successfully, growing a Chinese restaurant as a renowned local restaurant. Since the settlement in Seal Beach, Choi is pursuing his passion for literature. He is continuing creative writings, writing English poems for publications.
"You can reflect your life on a writing," said Choi. "I could live a broader life, thanks to writing. I will continue writing as long as I can do."
Original article by Park Nak-hee