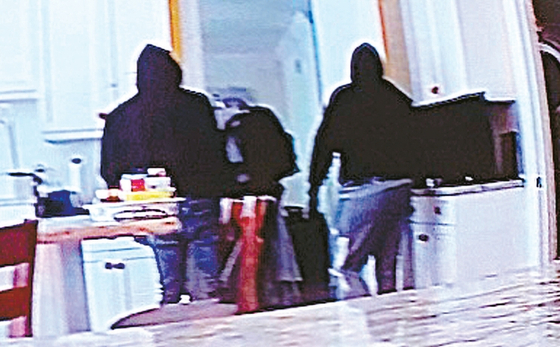 In the past month, at least seven Korean American homes in LA's Koreatown have fallen victim to burglaries.
These crimes predominantly took place in the Korean American neighborhoods stretching from Western to Crenshaw (east to west) and from Olympic to Wilshire (north to south).
A commonality among these incidents is the method: groups of three or more burglars targeting empty homes during daylight hours, specifically between 11 a.m. and 5 p.m., swiftly stealing high-value items.
Myunghee Ko, a resident near Lorraine/8th Street, made a disturbing discovery on September 8. Returning from work at approximately 4:40 p.m., she found her front door ajar. Upon entering, she noticed clothes that should've been upstairs scattered near the entrance. An inspection of her home revealed ransacked rooms and a shattered window.
Alarmingly, all 11 of the home's security cameras had been compromised.
Accessing the remaining footage, Ko witnessed three black intruders, armed with knives, hammers, and other weapons, scouring her home. It became apparent that the culprits gained entry through a second-floor patio, aided by an old tree adjacent to the driveway.
Recalling the harrowing experience, Ko shared her son's concerns: "My son feared what could've happened had I returned while they were still inside." She added, "They not only ransacked our home, damaging floors and stairs in the process, but also took valuables amounting to over $100,000. This includes two Rolex watches, jewelry, luxury items, and a safe containing cash."
Ko isn't alone in her ordeal. She mentioned six or seven other households in the vicinity experiencing similar break-ins recently. "A couple I know, residing at Olympic and Westchester, were burglarized just a day after us, on September 9," Ko revealed. "They are so traumatized that they now take turns standing guard at their home."
Ko further commented on the disturbing trend: "There have been numerous thefts in Koreatown targeting Koreans, even in places like second-hand stores. Victims often don't report out of fear of reprisal. There's a misconception that Korean households keep large sums of cash, making them attractive targets."
Similarly, a resident with the surname Kim, living near Olympic and 3rd streets, was robbed of a significant sum last year. "Around 1 p.m., while the house was empty, a group of six to seven intruders smashed a window to enter. They took everything, including our safe," Kim recounted. "Upon reviewing our CCTV footage, I spotted what appeared to be teenagers surveying our house just prior to the incident." Kim's efforts to seek justice were in vain: "Even though I reported it to the police, they failed to apprehend the suspects. I was told that the culprits, being young and unarmed, would likely be released shortly after an arrest."
LAPD Public Information Officer Tony Lim expressed the frustration: "The alarming frequency of these suspects being released post-arrest leaves us feeling rather helpless." Lim further elaborated on the understaffed state of the LAPD, "We are currently operating with around 8,000 officers, which inevitably leads to delays in response times. A potential solution would be for residents to make their voices heard through voting."
According to LAPD data, the Olympic Police Department reported 568 burglaries in 2023. Of these, 188 (or 33%) were break-ins at standalone homes, representing the highest number of burglaries by property type. Among the 21 LAPD stations, the Olympic Police Department ranked sixth in burglary cases.
BY SUAH JANG    [jang.suah@koreadaily.com]