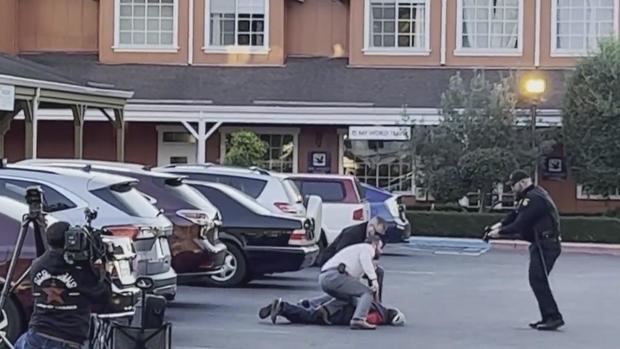 A worker in his 60s opened fire at two separate scenes in Half Moon Bay, California, killing a total of seven people and seriously injuring one.
According to AP/AFP news agency, the New York Times (NYT), and CNN, the shooting occurred at 2:30 p.m. in a farm area outside the city of Half Moon Bay, about 48 kilometers south of San Francisco.
The San Mateo County Sheriff's Office said in a press briefing that four people were killed at a nursery along the 12700 block of San Mateo Road with one victim severely injured. Right after the discovery, three more victims were found dead at another nursery along the 2100 block of Cabrillo Highway South. The suspect, Chunli Zhao (67) was arrested and detained.
The two crime scenes are about 3km away, and the suspect reportedly moved to two places by car.
Chunli Zhao was arrested in a parking lot about two hours after driving to the Half Moon Bay Police District. Video footage obtained by the media at the time of his arrest showed him being overpowered by three police officers without much resistance.
Investigators believe that Chunli Zhao acted alone. It is also believed that a semi-automatic pistol found in the vehicle was used in the crime.
The sheriff's office said the motive for his crime had not yet been determined.
Sheriff Christina Corpus said the suspect was an employee at the targeted Mountain Mushroom Farm, and that children were at the scene of the crime.
Some workers are said to live here with their children.
"The incident happened in the afternoon after the children left school," said Sheriff Corpus. "This is a devastating tragedy for this community and the families touched by this unspeakable act of violence."
Half Moon Bay is a coastal city with 12,000 residents engaged in agriculture, with only 5% of Asians living mainly by white people.
The shooting marked the sixth shooting in the United States this year.
The incident also occurred less than two days after a shooting in Monterey Park that killed at least 11 people.
cherora@yna.co.kr