These days, it's not so hard to experience Korean culture even if you live on the other side of the world – most of K-pop favorites are available on YouTube and Korean dramas, too, have become ever so accessible, allowing you to see how Korea looks like wherever you're at.
However, you still can't claim that you know every bit of Korean culture just by following the latest K-pop trend or eating out at your favorite Korean bbq restaurant. For those of you who are curious what are actually trending in Korea right now, here are few of them.
1. CLAW CRANES
Claw cranes, claw machines, teddy pickers, or whatever you call them, are pretty much found everywhere you go in Korea. While there is no known cause for its rapid growth out of nowhere, you can easily find people shouting for joy, or out of frustration, in front of claw cranes.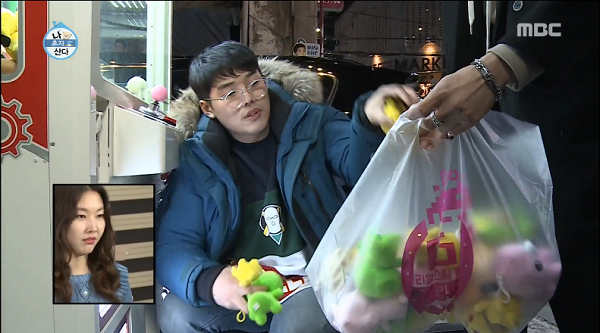 Most of them are scattered at random locations on streets, but some of them exist as a cluster at the "indoor claw crane room." While plush dolls are still the most popular item, other items like toys, snacks, or even random things like kitchen utensils are also available from claw cranes (speaking of random things, there once has been a short boom of 'lobster claw cranes' like a decade ago… Wonder what happened to them).
2. CHERRY BLOSSOM FOOD
This trend has originated from Japan, but as Korea is also known for its spring season embellished with beautiful cherry blossoms, I guess Korea, too, started to think of utilizing the flower for purposes other than visual enjoyment.
Most food items using cherry blossoms are found at coffee shops as seasonal items.
↑ Baking studio Dal D, located in Seoul, seasonally offers cherry blossom cakes and cherry blossom cookies.
Cherry blossom food is popularly found at convenient stores as well. Imported Japanese beers made with cherry blossom extract are the most popular items. There is also cherry blossom burger recently launched (I'm not sure if I want to try that, though).
3. NUCLEAR FIRE NOODLE
Buldak Bokkeum Myun, which is conveniently called "Fire Noodle" here in the U.S., is back with another spicy level. As the word "nuclear" indicates, its spiciness is rather lethal, wicked enough to give pain in the ass, like literally.
↑ YouTuber Korean Englishman and his friends doing a Nuclear Fire Noodle Challenge. This is hilarious and painful at the same time.
4. SOLO DINING
For a variety of reasons, including the increase of hermits, more and more people feel less hesitant to eat out alone. To meet their demands, restaurants and pubs designed for solo diners are increasing recently. While some of these places simply offer affordable combo items for one, others even accommodate the interior to present comfortable atmosphere for a table for one.
↑ One-person Korean bbq restaurant Dokgojin has everything a person needs for an enjoyable solo dining experience – from one-person grill to individual TV.
5. CUCUMBER HATERS

This is the most recent "trend" among the five listed because it's only been three days since this Facebook page has been made. In 48 hours, the page reached 40K likes and in about three days, the page now has 68K backers who gathered to share the pain of living as people who hate cucumbers and anything in the same family, including melons and watermelons.
If you wonder what kind of group "Cucumber Haters" is, below is their statement.
We want the world as following:
The world where we don't have to say "without cucumbers, please," when ordering a naengmyun.
The world where we can buy sandwiches without worries about cucumbers.
The world where we don't have to ruin our kimbap to pull out cucumbers in it.
The world without any child who suffers from cucumbers in school meals.
The world where people who hate cucumbers live with those who don't.
We will unite and gather the strength to fight for the world as above.
If you're a cucumber hater yourself and interested in joining, visit their page.
By Heewon Kim