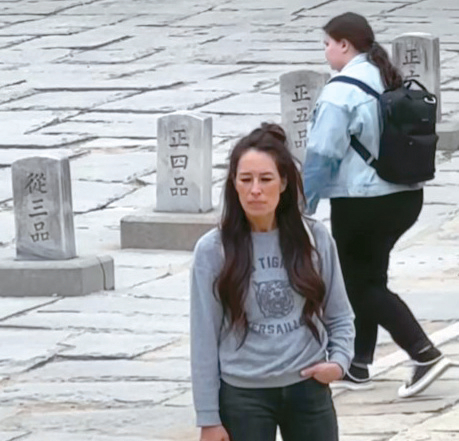 Joanna Gaines, 44, a Korean-American broadcaster and interior designer who appeared on the HBO program Fixer Upper: Welcome Home, is in the news for her trip to Korea.
According to Nextshark on Friday, Gaines confessed last year that it took her a long time to accept that she is Korean, and this time she visited Korea with her family.
On Instagram, Gaines shared a video of herself in Seoul, showing her tired face and the struggles of jet lag, while also showing that she was having a great time with her family.
Gaines is an interior designer and mother of five from the small town of Waco, Texas.
With her husband, Chip, she owns a remodeling and design company, Magnolia, and has made appearances on HGTV.
But as the daughter of a white father and a Korean mother, she grew up in the small town of Rose Hill, Kansas, and suffered from being the only Asian in her school. Her friends made fun of her for eating rice, which left a traumatizing childhood memory for her.
"That was half of my story, and it was very personal," Gaines told People magazine last year, "but I realized that if I didn't accept it, I might have to hide myself more or pretend to be something I'm not."
Gaines has since traveled to New York Koreatown with her family, eating Korean food and shopping at a Korean market.
"People were living their lives to the fullest and it was beautiful," she said, "and I realized that what made me different was actually the best part of me."
Gaines added that she wants her five children to learn about the Korean heritage and culture that was passed down from her maternal grandmother.
BY JANG SU-AH [jang.suah@koreadaily.com]