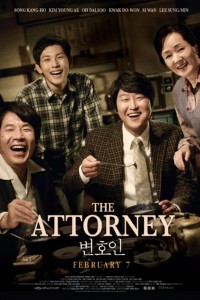 Basic information
Title: The Attorney (변호인)
Release Date: December 18th, 2013
Genre: Drama
Director: Yang Woo Seok
Stars: Song Kang Ho, Kim Young Ae, Siwan, Oh Dal Soo, Siwan
The Attorney is an earnest courtroom drama that paints the transformation of an ambitious attorney during the military dictatorship in the 70's and 80's.

The film reflects the core cultural values and political scene at the time – the director (Yang Woo Seok) vividly illustrates the importance of family, limited opportunities for uneducated, lower-class individuals as well as the widespread political intimidation at the time.
Protagonist Song Woo Seok (played by Song Kang Ho) originally starts his career as a tax attorney for his personal economic interest and social advancement. But his career evolves into something much greater when he takes on a case to defend the college students who were unfairly abducted and brutally tortured for alleged subversive activities (including participating in a book club).
By investigating this case, Song unveils the unjust practices committed in the name of national security. Song's commitment to justice and advocacy further progresses as he moves away from complacency in the interest of profitability.

The film covers both the challenging and rewarding aspects of the realistic journey, based on a true story. In fact, the protagonist is an allusion to Roh Moo Hyun, leader of a human rights activism and former president of South Korea.
Props to Song Kang Ho for his charismatic performance and shout out to Siwan (a member of Kpop idol ZE:A) for his emotionally stirring play.
Check out this emotionally-stirring box-office hit, if you haven't already!
By Hajin Lily Yi