An event offering a glimpse into Korean traditional culture through music, art, and food is coming soon to Los Angeles.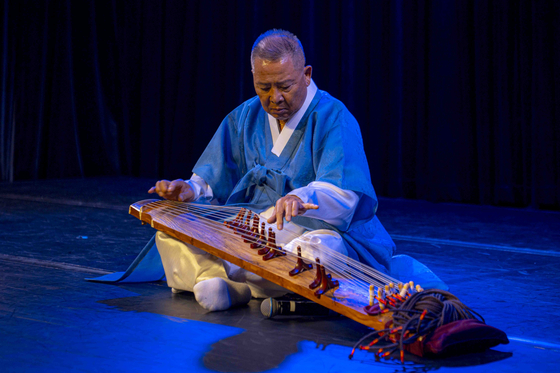 The Korean Cultural Center Los Angeles (KCCLA) and the Los Angeles Central Library are hosting "2023 Korean Spirit" in celebration of the 70th anniversary of the Korea-U.S. alliance and the 120th anniversary of Korean immigration to the United States.
The event will take place at 2 p.m. on May 27 at the Mark Taper Auditorium at the Los Angeles Central Library.
Three Korean art groups, including the Korean Traditional Music Institute of America, Oulim, and Korean Classical Music & Dance Co., will present ten traditional Korean music and dance forms.
The performances will include Gyeonggi Minyo (Central Folk Song), Jeongak (Court Music), Gayageum Sanjo (String Solo), Chunaengmu (Spring Oriole Dance), a Korean traditional music ensemble, Samullori (Korean Drum Ensemble with dance), Buchaechum (Fan Dance), and Jangguchum (hourglass-shaped drum).
For Jeongak, a five-piece ensemble featuring gayageum, lyre, flute, haegeum, and janggu will perform the signature piece "Hooray for a Thousand Years."
Additionally, a 24-piece ensemble of haegeum and gayageum, rarely seen in the United States, will perform a new version of Lee Sun Hee's "Fate." Lastly, the 20-member Ssamulnori will showcase various traditional Korean percussion instruments, including sangmodoligi.
Alongside the performances, booths set up by Korean government organizations such as the Sejong Institute and the Korea Tourism Organization will offer visitors the opportunity to engage in various K-culture activities.
These activities will include eco-bag DIY, Hangul calligraphy, and promotion of Korean language courses. Traditional Korean teacup sets and dasik will be displayed on the booth tables, allowing visitors to experience traditional tea ceremonies.
Visitors will also receive K-dessert goodie bags containing yakgwa, yugwha, honey rice cake, and more.
Sangwon Jung, Director of the Korean Cultural Center Los Angeles, expressed the intention behind the event, stating, "In order to expand Korean culture beyond the current focus on pop culture, we have organized an event in collaboration with the L.A. Central Library to introduce various aspects of Korean culture, including traditional arts, food, and art. We will actively promote the richness of traditional Korean culture to the American people through various future events."
▶Address: 630 W. 5th St. LA
▶Inquiries:(323)936-7141
BY EUNYOUNG LEE [support@koreadaily.com]