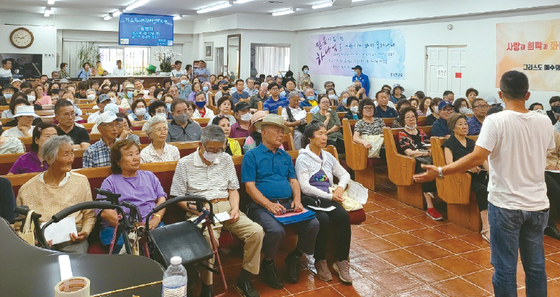 There are currently more than twenty low-income senior apartments available in the Los Angeles and Orange County areas, providing viable housing options for elderly residents.
Daejoong Yoon, the president of the nonprofit organization K-Town Action, stated, "As of July, there are a total of 23 low-income senior apartments available in Los Angeles and Orange County. We offer free application services for seniors every week. If any seniors are interested in applying, please contact us as soon as possible."
To share the latest information on low-income senior apartments, K-Town Action and Benjamin Construction Training School, led by Chairman Jong-tae Mo, organized a low-income senior apartment application briefing on July 22. The event, held at the Abundant Mission Church, saw over 200 attendees seeking valuable insights.
The briefing encompassed essential information, including how to prepare for the application process, the available apartments in July, and the LA-OC county median income guidelines.
In Los Angeles County, there are currently 13 low-income senior apartments accepting applications, including Sangnok Villa and Arirang Senior Apartments. Orange County offers 10 locations open for applications, such as Luxaira Senior Apartments and Miracle Terrace.
To apply for a low-income senior apartment, applicants must be at least 62 years old by the application date, and at least one member of a couple should have a social security number or be a permanent resident.
Unlike government rental subsidized apartments (Section 8 apartments), public housing often requires both the applicant and spouse to be 62 years old. Application requirements also vary based on the applicant's median income.
In L.A. County, income requirements differ slightly from apartment to apartment, but generally, a family of two earning $47,650 or less can apply for government rental assistance apartments (Section 8 or public housing apartments). In Orange County, the threshold is $54,200 or less.
Seniors earning more than 50 percent of the median income based on their area of residence can apply for a tax credit (affordable housing apartment), which typically does not subsidize rent.
Daejoong Yoon emphasized the importance of assisting seniors with language barriers and providing accurate information to help them navigate the application process effectively.
As apartment rents have risen in various places in line with inflation, there has been increased interest among seniors in low-cost housing options.
Yoon advised, "Before applying for a low-income senior apartment, it is crucial to check the income criteria, assets, age requirements, area of residence, status, and available apartment information in advance. In the future, we plan to expand the application agency service in cooperation with Korean organizations."
For low-income senior apartment application counseling and representation, individuals can contact K-Town Action at 657-347-2645 or email ask@kaction.org.
BY EUNYOUNG LEE    [lee.eunyoung6@koreadaily.com]