Spring has come to Korea. Everywhere you go there will be cherry blossoms, Korean forsythia, and other spring flowers in full bloom. With pleasant spring wind, it makes the perfect season to travel Seoul. You won't have difficulty having a tour around Seoul using subways and buses, but there are other special ways too – Rickshaw and Limo. Whichever you choose, these two vehicles on the opposite ends will make an unforgettable spring in Seoul.
Rickshaw: the slowest way to enjoy Seoul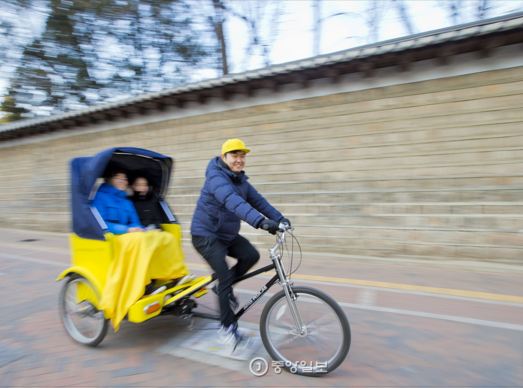 Rickshaw has disappeared a long time ago in the city of Seoul with the coming of modernization. However for travelers' sake, it's come back to life as a bicycle rickshaw. Various tour courses are available, including a 3-hour course passing by Myeongdong – City Hall – Deoksugung – Gwanghwamoon – Bukchon Village.
Rickshaw driver also plays a role as a tour guide. He is knowledgeable about everything in Seoul, from general facts -"Jeongdong Cheil Church over there is the oldest Protestant church in Korea – to small details -"This building is located on the most expansive land in South Korea" -. Since tourists are the main customers for the Rickshaw tour, drivers are fluent not only in English, but also in Chinese.
Passing places with hills, such as Bukchon, drivers give walking tours. Rickshaw tour feels much like having a personal tour guide.
Information:
Artee is a Rickshaw tour program operated by Lotte Hotel L7 Myeongdong. Three courses – each one, two, or three hour long – are offered and up to two passengers can ride. With reservation only.
lottehotel.com/l7/myeongdong, 02-6310-1000.
Limousine: the most luxurious way to enjoy Seoul
Limousine tour has a short 10-year history. However, with various services offered as part of the program, it's been popular among selected group of people. Pick-up and Drop-off services suit the best for those who want to explore Seoul as they want. Privacy and comfort are another strengths of Limousine tour.
Limousine drivers are also well-informed about the city of Seoul, being able to guide your tour. Anywhere you visit, they can give brief descriptions about the place.
Information:
The most popular program is Seoul Night Sightseeing tour program. For four hours, limousine drives through Garosugil, Yeoido, Myeongdong, Gwanghwamoon, and Namdaemoon. You can set pick-up and drop-off location or change the route as you wish. You can request for a tour guide with prior reservation.
carma.co.kr, 02-3444-5469.
Original document available from news.joins.com/article/19766880#none
Translated by Heewon Kim