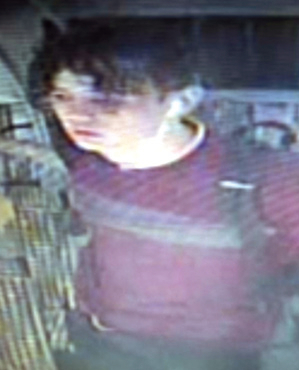 A recent wave of violent crimes, first on the LA Metro train and now on buses, has left public transit riders on edge.
On May 25, the Los Angeles Police Department (LAPD) announced the arrest of a 17-year-old suspect (pictured) who fled after stabbing a 61-year-old bus driver following an argument.
Investigators believe the incident took place after the bus driver and the suspect, who was a passenger, engaged in a roadside altercation on May 24 after disembarking the bus near the intersection of Topanga Canyon Blvd. and Erwin St. in Woodland Hills.
At approximately 5:15 p.m. that day, the suspect suddenly produced a weapon from his pocket, stabbed the driver, and fled. The Metro bus driver's identity has not been disclosed, but he was promptly taken to a hospital in Northridge and underwent surgery. He is currently reported to be in critical condition.
The Metro Board of Directors, responsible for overseeing public transportation in L.A., and the LAPD have issued a $25,000 reward for information leading to the arrest and conviction of the assailant.
Authorities obtained a surveillance camera photo of the suspect from the bus and managed to apprehend him less than a day later, attributing their success to the assistance provided by the public.
"The driver is still in critical condition, and we need to keep him in our prayers," said L.A. Mayor Karen Bass in response to the incident. "We are aware that ridership on trains and buses has declined, and we certainly don't want public safety to be the reason. However, we must redouble our efforts in that regard."
On May 19, a Latina woman in her 70s was also randomly attacked by another woman at a bus stop located at the intersection of South St. and Orange Ave. in Long Beach, prompting authorities to launch an investigation.
The victim, Socorro Ramirez de la Mora, was knocked to the ground and sustained abrasions to her upper body, bruises to both eyes, and a forehead cut. Fortunately, her injuries are reportedly not life-threatening.
According to authorities' investigation, the assailant allegedly verbally insulted the victim and forcefully pushed her into the street. Police are considering the incident as a possible hate crime.
BY INSEONG CHOI [support@koreadaily.com]