A teenage black girl who assaulted Asian tourists on a New York subway has been apprehended.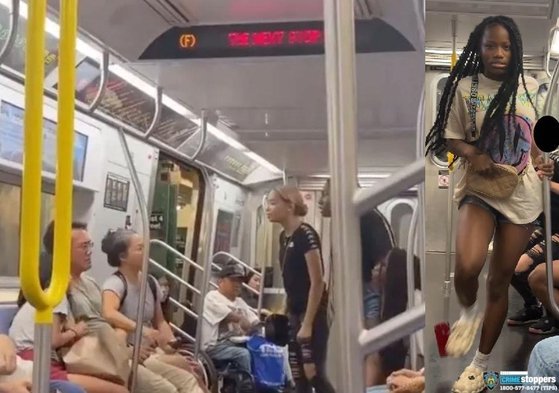 On August 8, CBS New York and NBC News reported that a 16-year-old black girl, involved in an attack on an Asian woman and another passenger aboard a New York subway train on August 6, surrendered at a police station and now faces charges of two counts of assault. The incident, captured on camera, has ignited discussions on public safety and the swift response of law enforcement. Her identity has not been disclosed due to her age.
According to the NYPD and victim interviews, the Asian family was journeying to New York from Nevada, accompanied by their 11-year-old twin daughters. The family is said to be U.S. citizens, with the wife of Korean descent.
The Korean American victim, identified as Sue Young, 51, is a retired doctor, as reported by the online news outlet The Messenger. Young recounted being attacked when she glanced up after hearing three teenage girls loudly laughing across from her on the train.
"When we looked at them, they started laughing even louder, pointing their fingers at us," explained the mother of the 11-year-old twins. She attempted to diffuse the situation by joining in their laughter, but this seemed to further provoke the trio of teen girls. As per Young, the girls then subjected her to verbal abuse, uttering phrases like, "Go back to your country."
The entirety of the incident was captured on the cell phone of Joanna Lin, 34, another passenger on the same subway. "This happens all the time, but there's no coverage or evidence, so it becomes a rumor," remarked Lin, who instinctively activated her camera with the thought, "If anything happens, I'll have proof." Upon realizing they were being recorded, the teenage girl rushed at Lin, knocking her down and landing a punch.
When Young intervened to protect Lin, she faced the same aggression. The assault reportedly persisted until the subway reached the next station, at which point fellow passengers aided the victims in disembarking to ensure their safety.
The NYPD is investigating the incident as a hate crime with racial motivations. Apart from the girl who surrendered, two others remain at large. Hate crimes against Asians have surged in the U.S. since the COVID-19 pandemic, and New York has witnessed a series of attacks on Asians in subway trains.
However, Young, who herself has been a target, expressed skepticism that the girl attacked them solely due to their ethnicity. She opined that the girls, stereotyping Asians as individuals who shy away from confrontation, perceived her family as an easy target.
"These are very young girls," Young remarked, "and we need to hold everyone accountable as a society and a community, not just law enforcement." Young expressed particular concern over the escalating anger directed towards the girls and the black community.
"I'm relieved that the girl turned herself in," Lin shared, "and I hope she extends an apology to me and Young and commits to not repeating this behavior."
BY JIYOUNG LEE  [lee.jiyoung2@joongang.co.kr]