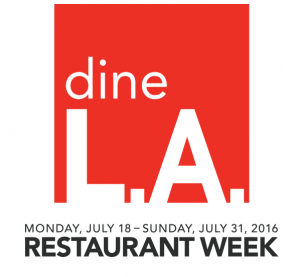 dineLA Restaurant Week is back with an unprecedented line-up! Presented by the Los Angeles Tourism and Convention Board, dineLA Restaurant Week is a 14-day dining event that takes place twice a year to showcase Los Angeles as a premier dining destination where the diversity of culinary experiences are highlighted. Starting this week, participating restaurants offer a special menu for lunch and dinner, which guarantees a 20% of minimum value.
Korean cuisine hasn't been the most active participant of dineLA Restaurant Week. This summer, too, number of participating Korean restaurants is scarce, compared to that of other East Asian cuisines. There are 15 Japanese restaurants, including ROKU and Gyu-Kaku, and five Chinese restaurants participating the restaurant week, while only two Korean restaurants are participating.
However, two players of the Korean cuisine, Hanjip and POT, are presenting the menus good enough to fulfill anyone's Korean food craving.
If you're a fan of Korean-style barbeque, Hanjip will be your restaurant week destination. Hanjip, the new-style Korean barbecue joint from Chris Oh and Stephane Bombet, is one of the best Korean barbeque restaurants, distinct for the elevation of its dishes. As a dineLA menu, Hanjip is offering All-you-can-eat Korean barbeque for the price as low as $15. For more information about Hanjip's dineLA menu, visit here.
Whereas Hanjip is presenting Korean barbeque-focused menu, POT is displaying the variety of Korean cuisine with its 3-course dinner. Restaurant inside The Line Hotel, located at the heart of Koreatown, Roy Choi's POT serves Korean food "through the eyes of an American with Korean blood." POT's $29 3-course dinner is best for those who are looking for a new dining experience. To see the full menu, visit here.
dineLA Restaurant Week takes place over July 18-31. Don't miss your chance to take a culinary voyage in Los Angeles!
By Heewon Kim