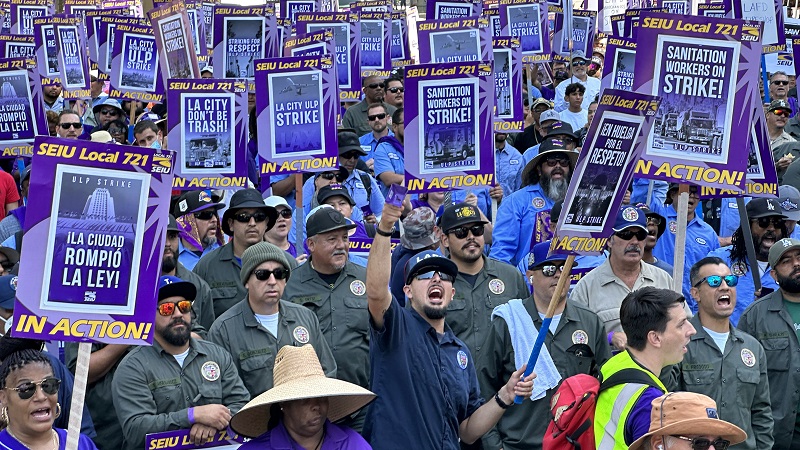 The labor disruption that has taken hold of Los Angeles is extending its reach from Hollywood and the hotel industry to encompass city workers. This ongoing labor dispute is not only causing service disruptions for residents but is also adding an extra layer of burden amid the ongoing heat wave.
Over 10,000 members of SEIU 721, a local labor union representing City of Los Angeles employees, are currently participating in a strike. These workers play a crucial role in maintaining and cleaning city-managed properties, including cleaning and sanitation duties at airports. Throughout the day, strike marches and protests are expected at more than 30 locations.
The city has announced that trash collection will be suspended and delayed by one day on August 8, and services such as parking enforcement and traffic control for outdoor events are also anticipated to face disruptions.
However, essential services provided by the police and fire departments will continue without interruption, and libraries as well as pre-schools will remain open. Depending on the location, public pools might experience closures or reduced hours, and travelers using LAX are advised to allocate extra time for their journeys. While the city's service line, 311, will remain operational, longer wait times are to be expected.
Mayor Karen Bass briefly stated on August 5, "City workers are indispensable to the daily functioning of services for millions of Angelenos and our local economy. They deserve equitable contracts, and since January, we have been engaged in good faith negotiations with SEIU 721. The city remains committed to making progress 24/7."
Union President David Green remarked, "The city will need to find ways to compensate for the loss of workforce and heed the concerns of the public." Negotiations for a new contract between the union and the city, which previously agreed on a one-year deal in November, are set to resume on August 24.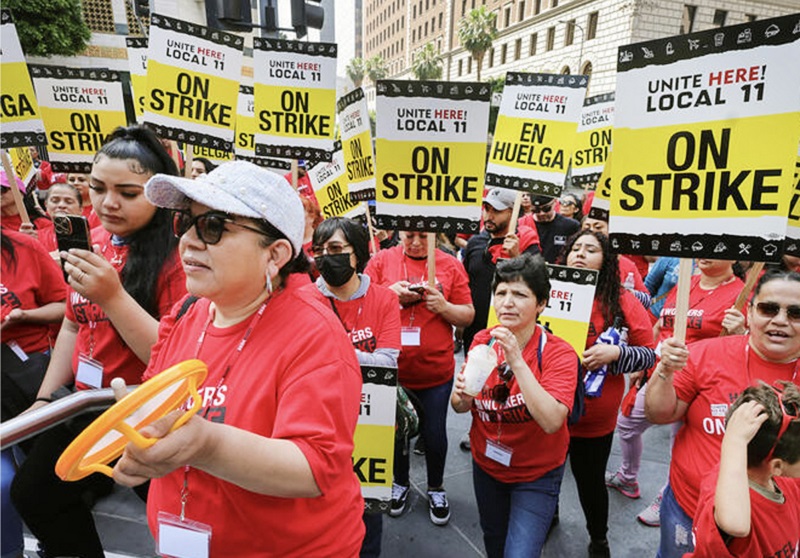 Hotel Strikes Extend Over a Month
Although the hotel workers' strike might have shifted from widespread attention as it spread to individual hotels, members of UNITE HERE Local 11 continue to picket. Demonstrators can be seen in the early hours near downtown LA hotels, as well as in Santa Monica, Long Beach, and other locations. Throughout the prolonged negotiations, union members have kept their voices heard by joining protest marches before and after their work shifts.
Hotel workers, who initiated their strike in early July, just prior to the holiday season, have rejected an offer from hoteliers involving a $2.50 per hour wage increase over the next 12 months and a cumulative raise of $6.25 over four years.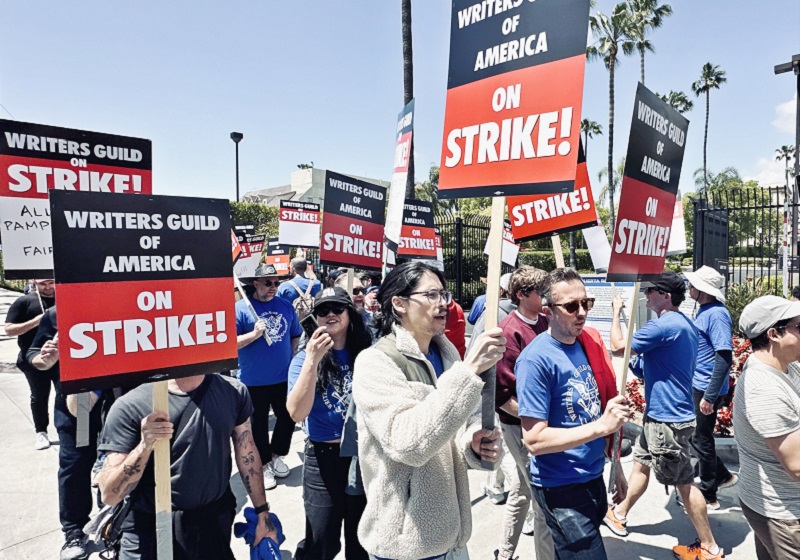 Prolonged Hollywood Strike Effects
The Hollywood writers' strike isn't confined solely to LA; its impact is rippling throughout the entire entertainment industry. The Emmy Awards, a significant event celebrating TV show creators, have been canceled and postponed until the following year – a decision made for the first time in 22 years, since the aftermath of the 9/11 attacks.
The Writers Guild of America (WGA) held discussions with the Alliance of Motion Picture Producers and Television Producers (AMPTP), the body representing the producers, on August 4. Despite offering to consider any equitable terms, the talks once again concluded without significant progress.
A complicating factor is the concurrent strike by the actors' union, aligning with the writers' strike, thereby preventing the production of any content. Prior to last week's negotiations, the WGA emphasized in a statement that "an unprecedented strike is making this a challenging period for all parties," and further noted that "rumors of backchannel talks were rampant this week, predominantly driven by management as a strategic tactic."
With details of the negotiations remaining undisclosed, tension is escalating, and production studios are projected to remain vacant for the foreseeable future. Simultaneously, a writers' picket line has persisted for three months in the bustling Hollywood area, usually teeming with tourists during summer vacations.
Moreover, over 80 Amazon delivery drivers in California have recently formed a union and commenced an indefinite strike since June. Their demands stem from the desire for improved working conditions amid the ongoing heat wave. These Amazon drivers assert that they are compelled to execute over 400 deliveries daily amidst 100-degree temperatures.
BY BRIAN CHOI [choi.inseong@koreadaily.com]