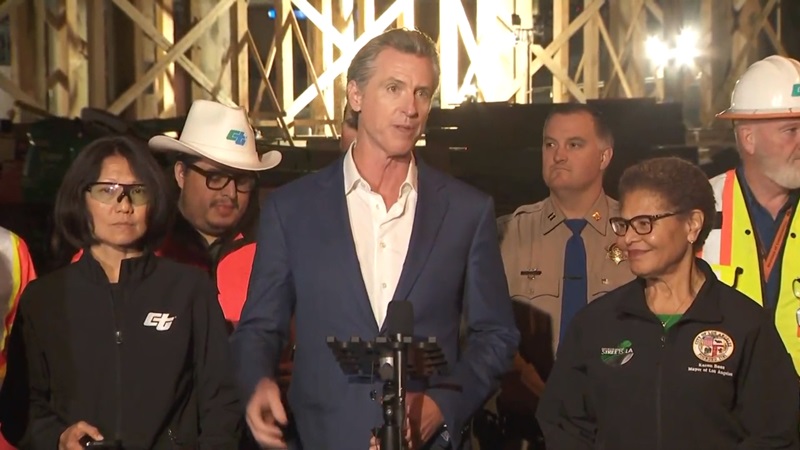 The downtown Los Angeles section of the 10 Freeway, closed following a major fire, is expected to reopen to traffic next Tuesday, November 21, 10 days after the incident.
California Governor Gavin Newsom and L.A. Mayor Karen Bass held a press conference on the evening of November 16 to announce that the 10 lanes in both directions of the section will reopen by November 21. This is a relatively early reopening, as earlier in the week, authorities said the reinforcement work would take at least three to five weeks.
"That is a significant improvement based on our original timeline of three to five weeks," Newsom said at the news conference on the evening of November 16 at the construction site.
"By next Tuesday, trucks and passenger vehicles in both directions will be moving again. This is due to the extraordinary work of the folks behind me. Things continue to move favorably in our direction," he said. "However, it's not guaranteed. We still have chemical sampling coming in daily, but the bridge structure itself seems to be in better shape than we anticipated."
The closed portion of Interstate 10 between Alameda Street and the East L.A. Interchange typically carries about 300,000 vehicles per day. A beaming Los Angeles Mayor Karen Bass proclaimed, "This is a good day in Los Angeles. All of the stars have aligned in favor of Angelenos," she said.
The fire broke out at about 12:20 a.m. on November 11 on the eastbound 10 Freeway, under a bridge between Alameda Street and Santa Fe Avenue. The fire spread to stacked wooden pallets and grew, leading to the freeway's closure due to the risk of collapse.
Authorities are investigating the incident as arson. "To date, the investigation has uncovered evidence of a deliberate arson," Newsom said at a press conference on November 13, "a premeditated and intentional fire."
Bass said there are security cameras in the area, but it was unclear if any of them captured the culprit or culprits in the act. She urged anyone with information about the start of the blaze to come forward and call a hotline at 800-468-4408.
BY BRIAN CHOI [ichoi@koreadaily.com]